Adopted Transportation Studies
2015
BONANZA PARK / LOWER PARK AVENUE TRANSPORTATION & PARKING STUDY
Park City is about to embark on a comprehensive study of the Bonanza Park and Lower Park Avenue neighborhoods.
Project Goals & Objectives
Develop land-use principles that are compatible with and support a broad range of short and long-range transportation improvements.
Create a framework that establishes an implementation strategy supported by both private and public partners.
Develop transportation solutions that reduce dependency on the private automobile, while improving travel by transit, bike, and on foot.
Implement the community's vision for a vibrant livable district, transit center, park-and-ride, and multimodal connections to and from Bonanza Park, Lower Park Avenue, Park City Mountain Resort, and Main Street.
Support Park City's goals for a diverse economic base that includes both the tourist industry and local businesses.
Identify the potential key opportunity sites to support transportation infrastructure.
Understand community values and priorities, and use those values to shape project recommendations and outcomes.
Ensure a collaborative community process through diverse outreach events and platforms for input.
Area of Focus
The primary geographic focus of the study is on the Bonanza Park (bordered by Kearns Boulevard, Park Avenue, Bonanza Drive, and Deer Valley Road) and the Lower Park Avenue districts. However, the project will look at the city's larger transportation system and how proposed projects can facilitate improved travel to major destinations, especially Park City Mountain Resort and Main Street.
You can read the final report here.
On November 4th & 10th, 2015, Park City Municipal held two community workshops to present various transportation options for Bonanza Park. Below are the boards that were on display: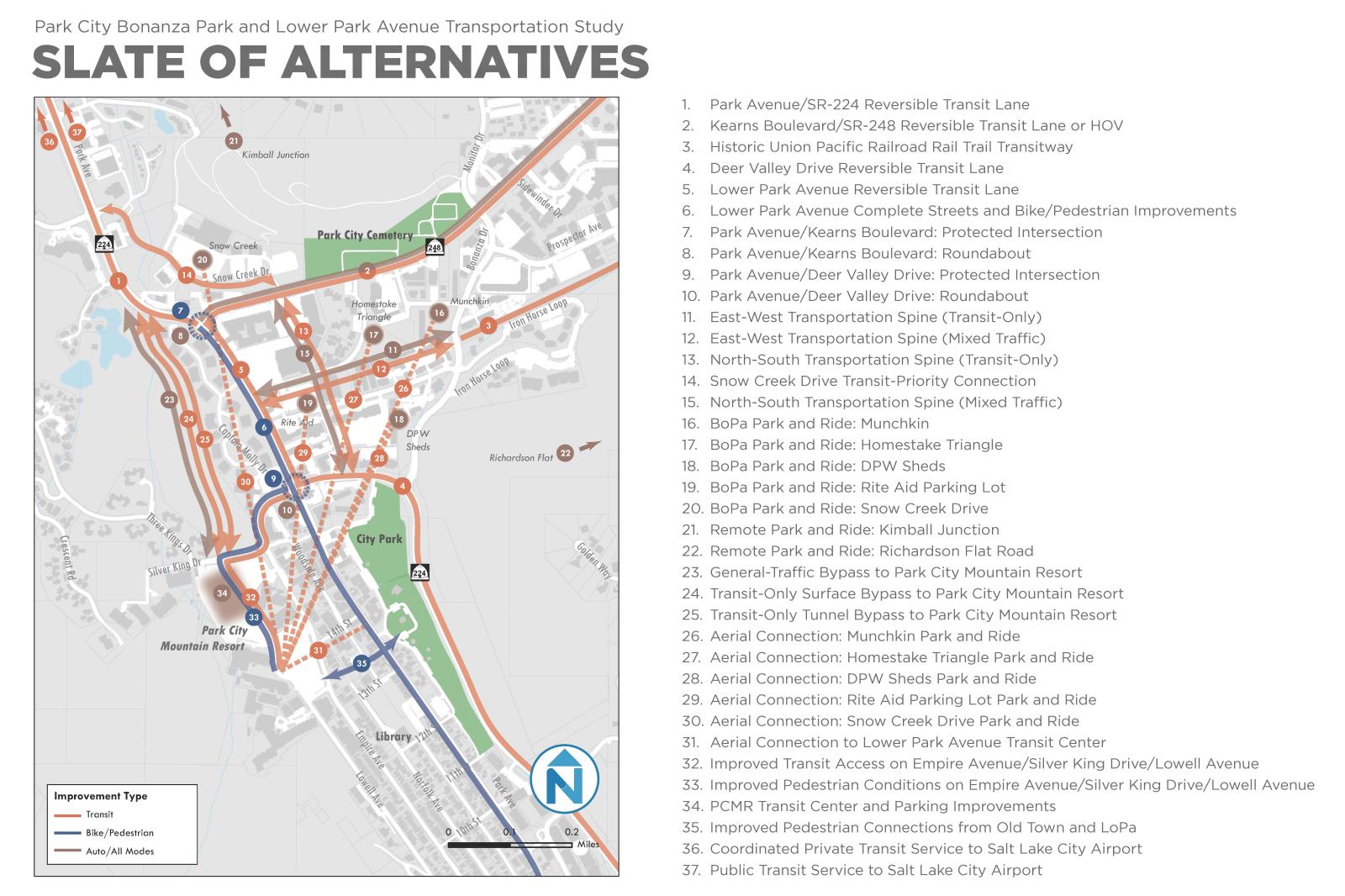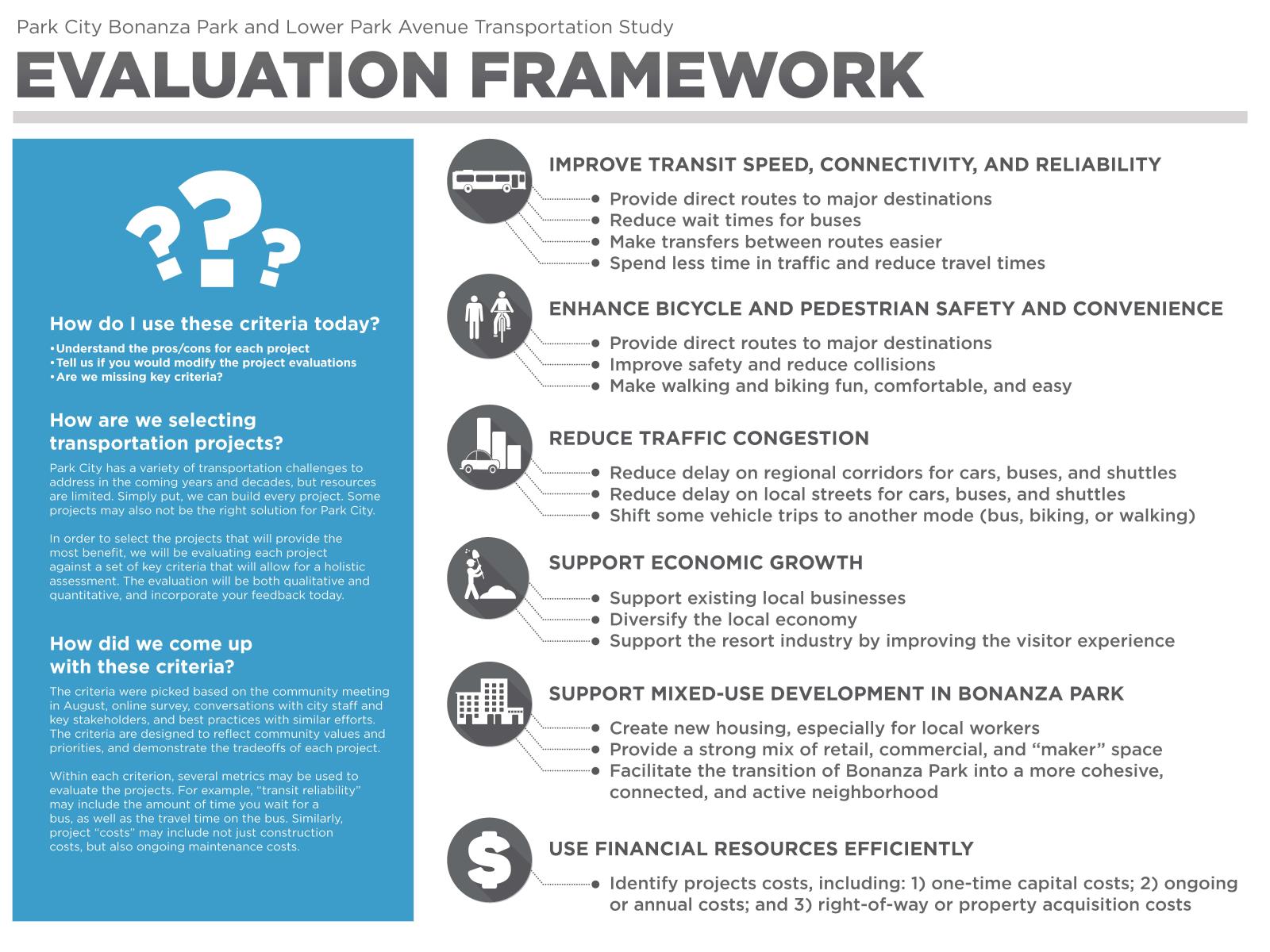 SHARROWS (SHARING THE ROAD with CARS, BUSES & BIKES)
In the Spring of 2015 the city commenced a pilot project for Sharrows--roads that are shared among cars, buses, and bikes. The ultimate goal of sharrows is to indicate where people should preferably cycle.
Sharrows do this in the following ways:
Assist cyclists with lateral positioning in a shared lane with on-street parallel parking in order to reduce the chance of a bicyclist impacting the open door of a parked vehicle.
Assist cyclists with lateral positioning in lanes that are too narrow for a motor vehicle and a bicycle to travel side by side within the same traffic lane.
Alert motorists of the lateral location bicyclists are likely to occupy within the traveled way.
Encourage safe passing of bicyclists by motorists.
Reduce the incidence of wrong-way bicycling.
Sharrow lanes have been installed in Park City on Prospector, Sidewinder, and Park Avenues between Empire and Heber. (N.B. this last roadway is inconsistent with the recommended criteria due to average daily use numbers but will be part of the study area for data-gathering purposes).
You can read the initial staff report presented to City Council on July 10, 2014.
PREVIOUS PLANS & STUDIES
Park City General Plan, 2014
Bonanza Park Area Plan, 2012
Traffic & Transportation Master Plan, 2011
SR-224 Corridor Study, 2012
SR-248 Corridor Study, 2009
Trails Master Plan, 2008
Compendium of Studies Related to the Lower Park Avenue Redevelopment Area, 2013