Lost and Found
(435) 615-5301
Monday through Friday
8:00 a.m. to 5:00 p.m.
After hours leave a message at
(435) 615-5350
KPCW additional local
Lost & Found Info
click here
Park City Transit Proposed Winter 2020-2021 Service
Park City Transit is exploring significant changes to transit service in the upcoming Winter Service period in response to declining revenue sources and to meet ridership demand as a result of the COVID-19 pandemic. The proposed changes were discussed in the September 15, 2020 Joint Transit Advisory Board (JTAB) meeting. Recommendations for proposed winter 2020-2021 service were also presented to the Park City Council in their Tuesday, September 22, 2020 Council Meeting.
---
Introducing the Trailside Loop!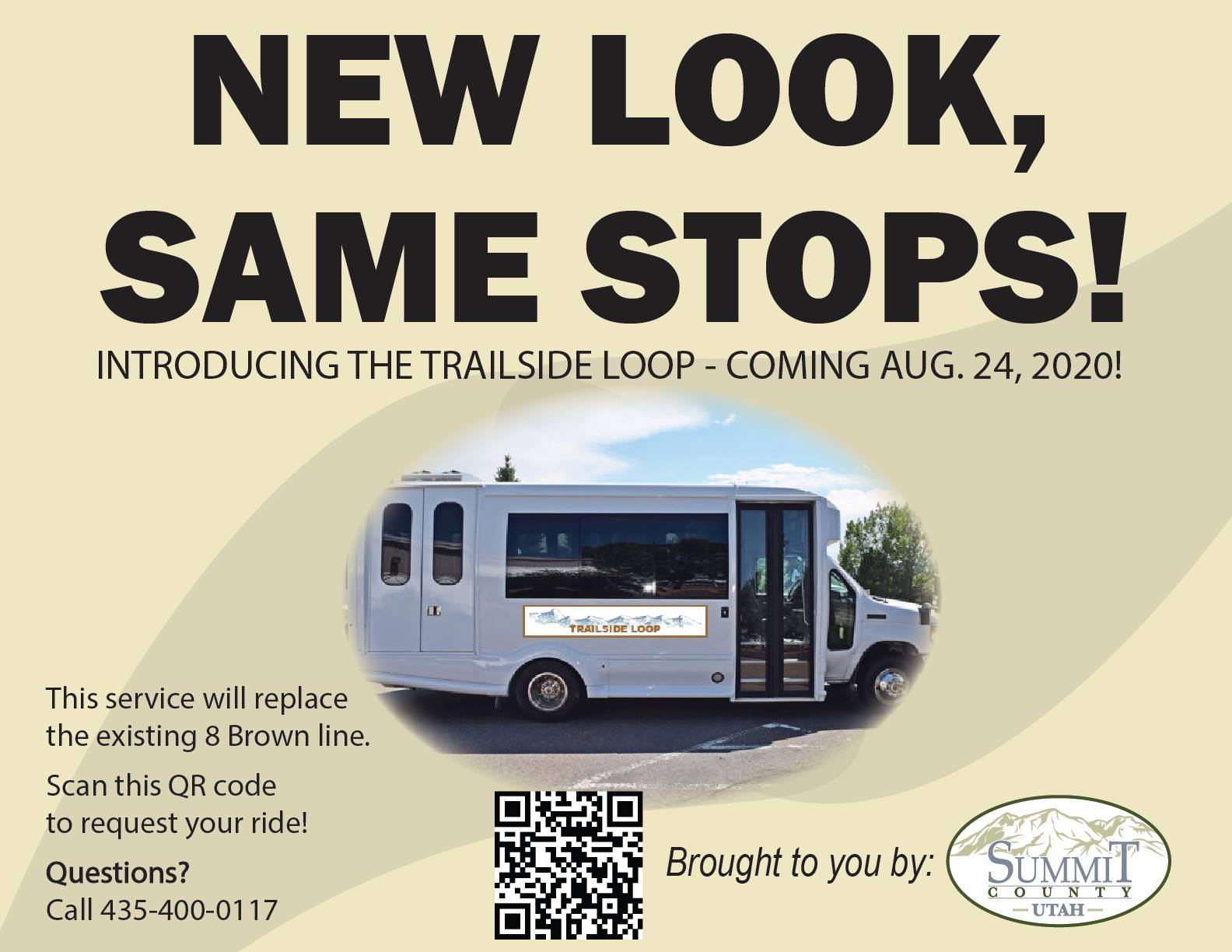 The new Trailside Loop replaced the former 8 Brown bus route. This new service operates during the same hours and to the same stops but has a new route deviation feature! More details coming soon. For now, expect the same great service in the Trailside neighborhood that you have always had. Masks required for all riders and can be requested from the driver.
---
Park City Transit COVID-19 Updates
Reminder: Summit County Joint Public Health Order 2020-08 requires masks at publicly accessed indoor spaces, including Park City Transit buses and transit centers. Any face covering that completely covers the nose and mouth is acceptable. Visit summitcountyhealth.org/coronavirus for more info.
---
LATEST NEWS
---
MyStop Mobile
---
Park City Mobility
All Park City Transit buses are ADA accessible. We are also pleased to provide door-to-door para-transit service to ADA certified passengers who cannot ride the fixed route service. For an ADA Eligibility Application or for further information, contact our Transit Certification Office (8:00 a.m. to 5:00 p.m., Monday - Friday) at (435) 615-5353.
TTY (435) 615-7041 or 711
TTY En Espanol (888) 346-3162.
Application for ADA Paratransit Service
Application for Senior Mobility
ADA Policy & Complementary Transit Plan
Non-discrimination notice
Park City Municipal Corporation's policy is that no person, regardless of race, color, or national origin shall be excluded from participation in, be denied the benefits of, or be subject to any discrimination under any program, activity, or services under Section 601 of Title VI of the Civil Rights Act, as amended. For a copy of Park City's Title VI Policy and Complaint Procedure, please contact Park City/Summit County Transit at (435) 615-5301 Monday thru Friday 8:00am to 5:00pm. After hours leave a message at (435) 615-5350.