Lost and Found
(435) 615-5301
Monday through Friday
8:00 a.m. to 5:00 p.m.
After hours leave a message at
(435) 615-5350
KPCW additional local
Lost & Found Info
click here
Park City Transit Service Alert
Effective TUESDAY, MARCH 24, 2020, Park City Transit is reducing service frequency and hours of operation on some routes. Working together, we can help slow COVID-19.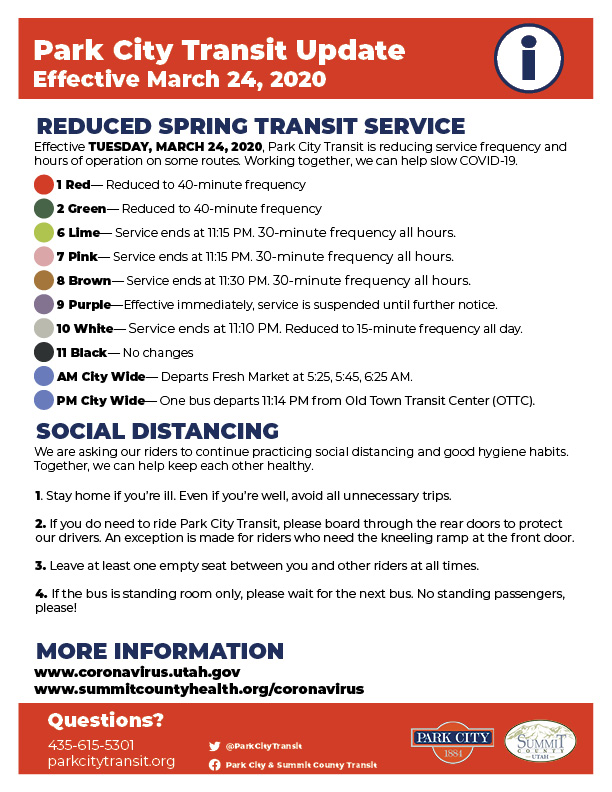 Park City Transit COVID-19 Updates
Park City Transit is working with local public health officials to slow the spread of COVID-19. We've stepped up cleaning of vehicles and facilities using EPA-approved disinfectant. Drivers are practicing personal precautions as outlined by the CDC; such as, regular hand washing and utilizing the City's generous sick leave policy. We are asking our riders to continue practicing social distancing and good hygiene habits. Together, we can help keep each other healthy.
1. Stay home if you're ill. Even if you're well, avoid all unnecessary trips.

2. If you do need to ride Park City Transit, please board through the rear doors to protect our drivers. An exception is made for riders who need the kneeling ramp at the front door.

3. Leave at least one empty seat between you and other riders at all times.

4. If the bus is standing room only, please wait for the next bus. No standing passengers, please!
We will post service alerts on Facebook, Twitter, and the MyStop Mobile app
For more information, visit the Summit County Health Department website. summitcountyhealth.org/coronavirus/
For Park City Municipal COVID-19 Updates, please visit parkcity.org/covid-19
Welcome to the Park City/Summit County FARE FREE BUS SYSTEM.
Sit back, relax and leave the driving to us!
Park City & Summit County's transit system is the best way to get around town.
The transit system provides easy access to recreational areas, our Historic District and
Kimball Junction without the worries of having to drive your car and find parking.
LATEST NEWS
---
MyStop Mobile
---
Park City Mobility
All Park City Transit buses are ADA accessible. We are also pleased to provide door-to-door para-transit service to ADA certified passengers who cannot ride the fixed route service. For an ADA Eligibility Application or for further information, contact our Transit Certification Office (8:00 a.m. to 5:00 p.m., Monday - Friday) at (435) 615-5353.
TTY (435) 615-7041 or 711
TTY En Espanol (888) 346-3162.
Application for ADA Paratransit Service
Application for Senior Mobility
ADA Policy & Complementary Transit Plan
Non-discrimination notice
Park City Municipal Corporation's policy is that no person, regardless of race, color, or national origin shall be excluded from participation in, be denied the benefits of, or be subject to any discrimination under any program, activity, or services under Section 601 of Title VI of the Civil Rights Act, as amended. For a copy of Park City's Title VI Policy and Complaint Procedure, please contact Park City/Summit County Transit at (435) 615-5301 Monday thru Friday 8:00am to 5:00pm. After hours leave a message at (435) 615-5350.