Quick Links
---
About Us
Park City Transit has provided fare-free public transportation in the Park City, UT area since 1975. Today, Park City Transit's 9 bus routes, 75 full-time and seasonal operators, and 50 vehicles help transport residents, visitors, festival-goers, and employees alike year-round. With 13 zero-emission electric buses and other industry-leading technology in our fleet, Park City Transit's riders can sit back and relax while knowing they're doing their part to reduce emissions and roadway congestion.
---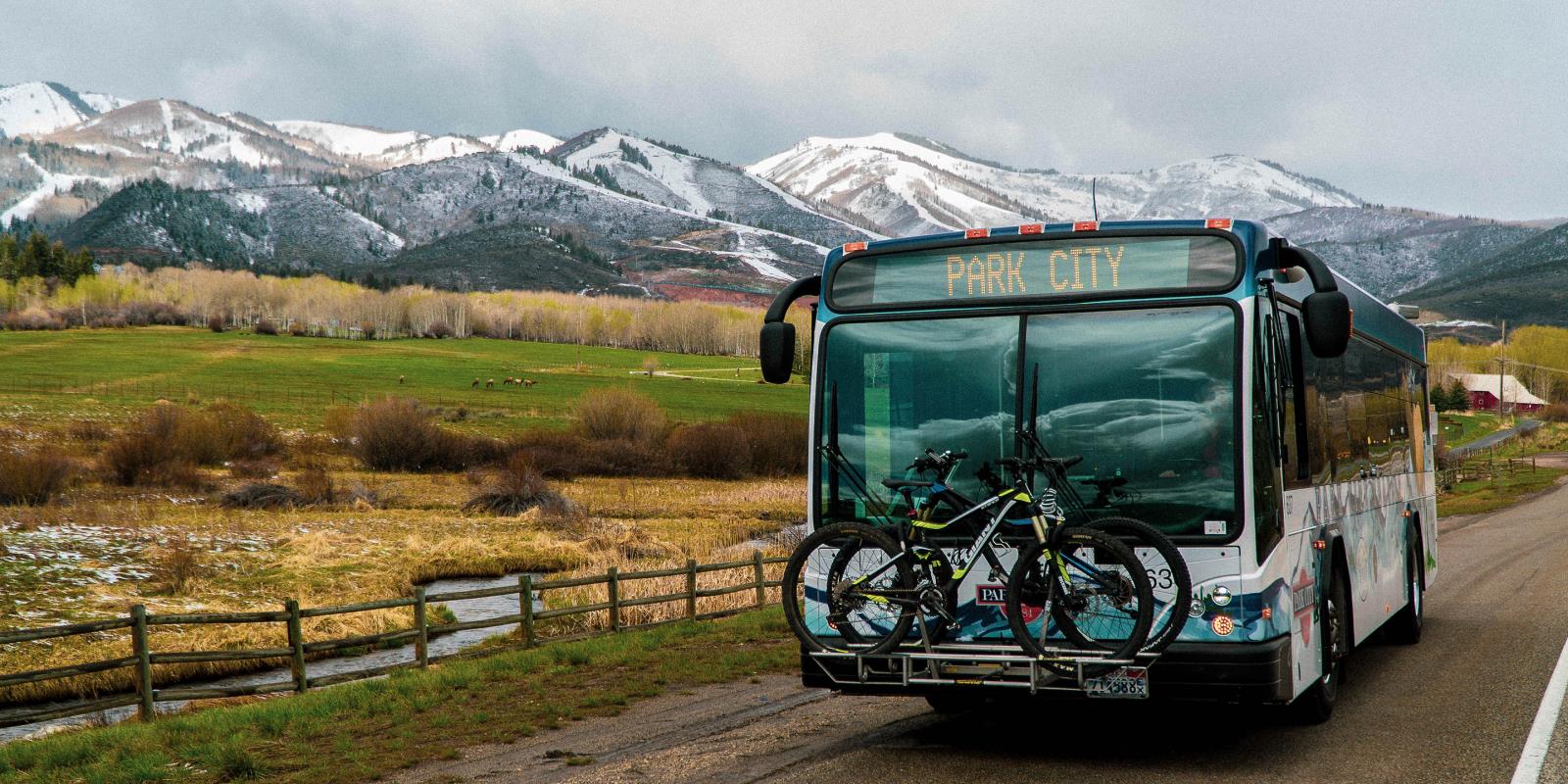 History
1974: First bus service, which serviced resort traffic, only ran in the winter, and was paid for by the local hotels.
1975: Park City Municipal contracts with Lewis Stages to run the first free bus service
1976: Park City signs a contract with Gray Lines and the Salt Lake Transportation Company to provide bus service after Lewis operation runs out of funding.
1977: First Senior (ADA) Bus. Transit Tax allowance passed in the state legislature.
1978: Transit Tax passed by City residents. Full winter service begins, carrying 165,000 passengers during the season.
1979: Official Transit name change to "Park City Mountain Metro."
1981: Senior bus service is integrated with Park City Mountain Metro
1982: First full-size buses arrive, and the practice of regular passenger counting goes into effect.
1983: First UDOT federal grant money is received, and the system is officially renamed "Park City Transit."
1984: A statement of purpose is adopted: "To provide clean, timely, friendly, helpful service within Park City to both residents and tourists and to discourage the continued use of automobiles."
1985: The first Main Street Trolley arrives and begins running in December
1988: Grant approved that provided the money to build six additional bays on the bus barn.
1989: In March, the 5,000,000th passenger boards.
1990: Lewis Stages begins running bus service between Park City and Salt Lake, twice in the morning and twice in the evening
1991: The Federal Americans with Disabilities Act is passed, and all bus systems are required to become wheelchair accessible. The purchase of new Gillig buses allows Park City Transit to be compliant within two years.
1994: Trolley is converted to 50/50 CNG (Compressed Natural Gas)/diesel
1995: Bus garage expansion started
1996: New Trolley purchased, and a large marketing campaign was undertaken to increase Main Street employee ridership
1998: New ridership level achieved: 1,070,000 for the year
2000: Construction begins on the Old Town Transit Center and Deer Valley Roundabout
2002: Olympic Games. City-run Kimball Junction routes begin
2005: New Trolley placed in operation
2006: Park City and Summit County enter into an agreement to expand service into the county. The division between City/County is established at the Meadows Drive stop light.
2007: First year to reach 2,000,000 passengers
2011: UTA begins PC/SLC Connect service
2013: Housing facility built at Public Works to provide affordable housing for transit operators
2013: In partnership with UDOT and summit-county, bus-only lanes are temporarily allowed during the winter season in the shoulders of S.R. 224 between Canyons Village and Newpark/Olympic Blvd. These temporary bus-only lanes are tested again in later winter seasons.
2015: Real-Time Bus Tracker and Trip Planner officially rolled out
2016: The Short-Range Transit Plan (SRTP) is adopted by Park City Municipal, guiding service improvements over five years from 2016-2021.
2017: Based on recommendations from the SRTP, Park City Transit rolls out the "Electric Xpress" with the purchase of six battery-electric buses. This new service provides buses every 15 minutes between Kimball Junction and Main Street.
2018: Based on the success of previous pilot programs and recommendations from the SRTP, permanent bus-only lanes are installed on the shoulders of S.R. 224. The bus-only lanes run from White Canyon Road to Newpark/Olympic Blvd. and are used as needed year-round to bypass traffic congestion.
2018: Seven additional battery-electric buses are put in service. Approximately 25% of the fixed-route bus fleet is now all-electric, making Park City Transit a leader in sustainable transportation.
2019: On-Demand service begins, providing service to Quinn's Junction, Park City Heights, Main Street, and the High School.
2020: In partnership with UDOT and Utah Transit Authority, Park City Transit places an order for additional battery-electric buses. Park City Transit will receive 7 electric buses as part of this order.
2021: Summit County creates the High Valley Transit District, creating two separate but coordinated transit systems in the Park City area. For several years, Park City and Summit County leaders discussed the growing need for transit service to extend further throughout Summit County. Both agencies determined Summit County is best suited to work with neighboring communities and build a regional transit system through High Valley Transit, while Park City Transit is best suited to operate service within Park City.
2021: Park City Transit begins the early stages of preparing a Short-Range Transit Plan. This plan will reimagine the existing Park City Transit system. The planning process will focus on existing or potential ways to connect major destinations with easy-to-use transit service. Recommendations will be implemented over the course of several years.
2022: Park City is awarded an FTA grant for the purchase of additional electric vehicles. With seven battery-electric buses scheduled to arrive in late 2022 and funding for more, Park City's transit fleet will soon be more than 50% battery-electric.