Special Events Application & Approval Process
In September of 2018, City Council adopted major changes to Park City Municipal Code regarding Special Events.
Summary of Special Event Code Changes
Link to Park City Municipal Code 4A Special Events
When completing the Applications , you must save the application to your computer before you begin and when it is complete. If you do not save the application first, your work will be lost upon pushing the submit button.

2019 Peak Time Periods
2019 Peak Time Period Calendar - during Peak Time Periods, applications for new Level 3, 4, or 5 events will not be considered.

Event Date Request Form
2019 Event Date Request Form - now required to be completed before proceeding with a Special Event Permit.
Special Event Permits
Special Event Application - This is not a permit. This is an application to apply for Special Event. After submitting an Event Date Request Form, Special Event Applications can be submitted no earlier than 18 months in advance, and no later than the deadlines as follows, unless determined as a Level 1 or Level 2 event.
Deadlines are as follows:
1. First Friday in December for events through June. Evaluation and approval/denial by end of February
2. First Friday in April for events through October. Evaluation and approval/denial by end of June.
3. First Friday in August for events through February. Evaluation and approval/denial by end of October
4. Level 1 or Level 2 events must apply no later than 30 days in advance and are evaluated administratively by City Staff.
City Service Fee Reduction Application
NEW Fee Reduction Application

Application Deadline April 1, 2019 for events occurring July 1 through December 31, 2019.
Application Deadline October 1, 2018 for events occurring January 1, 2018 through June 30, 2018.
Fourth of July Applications
4th of July Parade Float Application

Each year, the Park City event calendar is made up of a unique mixture of events. From internationally recognized, to community focused, special events enhance our visitor's experiences and create a vibrant community for the residence who live here.
For each event, our goal is to help your event to be safe and successful. Taking time to plan for the impacts of your event is a must. You may also email us at specialevents@parkcity.org or call us at 435.615.5188 (Jenny Diersen), 435.615.5187 (Colleen McGinn) or 435.615.5194 (Chris Phinney).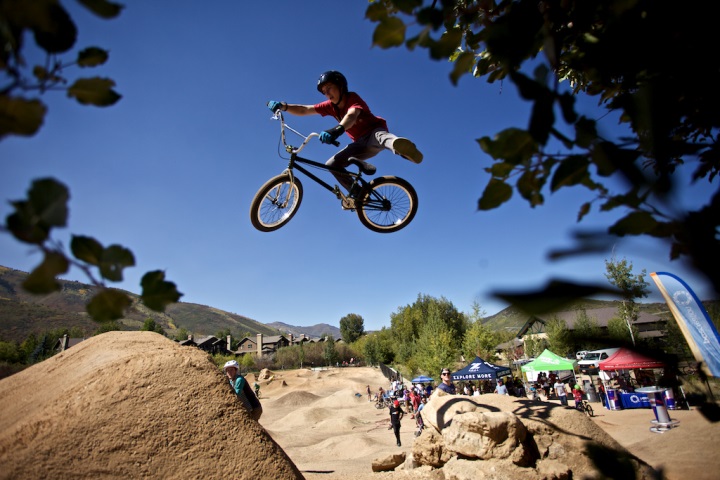 Photograph taken by Ben Van Avermaete during the Park City Dirt Jump Jam.
Our Process:
As a reminder, complete applications with the required supplemental documents for Special Event Permits are due indicated above.
The role of the Special Events Department is to help gain approval for Special Event permitting by mitigating potential impacts, helping event planners understand the regulation of city codes and policies and managing the busy Park City Event Calendar. The success of your event relies upon providing us with complete and detailed information.

The application process takes time. We want to make sure event organizers understand the process of the Special Event Permit. If you have questions before submitting your complete application, we are happy to set up a pre-application meeting to discuss your event questions. Upon the receipt of a complete application, we work with various City departments to help coordinate your event and mitigate impacts to the surrounding community. Prior to the approval of your event, we will provide you with an invoice outlining estimated costs of City Services. Once your event has concluded, we will ask you to complete a survey and participate in an event debrief meeting regarding the services you received from Park City Municipal so we can continue to improve on the success of your event.
Receiving Applications
Upon receiving an incomplete application, we will send you an email notice and work with you towards creating a complete application. We can not formally begin our review process for applications until complete applications have been received. Failure to submit the required information for a complete application may result in delay or denial of event.
For each event held in Park City, Staff carefully reviews the completed application and works with the organizer as well as community partners, various City departments and surrounding City, County and State jurisdictions to approve the event. As applications are reviewed, they are evaluated for approval based on the economic, community and cultural value, the safety of the event and the already existing event calendar. Applications do not constitute as permits. Special Event Permits are approved by the Special Events Department or City Council, in writing, after complete applications are reviewed under Park City Municipal Code 4A.
As part of the application review, staff will work with the City Attorney's Office to determine liabilities of the event and event insurance requirements. A Certificate of Insurance (COI), as determined by the City Attorney's office, will be required for all permitted events prior to the set-up of an event. As you submit your Special Event Application, please be sure to inquire about this process with our staff.

Complete applications need to include the following:
• Completed Special Event Application
• Site Maps – (we suggest using Google Earth)
Parking Areas
Sign Placement
Restrooms
First Aid
Power & Water
Temporary Structures
Road & Trails Use
• Contingency Plans
Safety & Security Plans
Emergency Plans
Weather Date & Conditions Plans
Mitigation/Notification/Notification Plans
Operations Timeline
Trash, Waste, Recycling
• Transportation Plan
Parking
Alternative Transportation Options
Traffic Mitigation
Street, Sidewalk Closure Information
• Permission Letters from Private Land or Property Owners
Please be aware that your event may require permits from other cities, counties or state agencies – these may include but are not limited to –City Building Department, Utah Department of Alcohol and Beverage Control, Park City Fire District, Summit County Health Department. Any additional City services accrued will be billed to the event organizer after the event.
During & Post Event Evaluation
We intend to be transparent, while assisting you and answering questions throughout the application review process. During the event, City Staff is available to assist with the event as well. Once your event has ended, the Special Events Department requires that the organizer reports information both on the performance of the event, as well as the performance of the City Staff. Your feedback about the event process as well as what we can work on as staff is of utmost value to us. Lastly, staff will work to provide feedback to the applicant regarding their event.
Fee Reduction Policy
Events are a business - they take time, coordination, hard work and money to make them successful. In addition, our staff values events as they provide unique opportunities within our community. In an effort to increase our transparency in event fees and budgetary expectations for event organizers, the City will consider allocating fee reductions for City Services associated with Special Events bi-annually.
The allocation of fee reductions will be evaluated by effected City Departments and a recommendation will be submitted to the Special Events Department. Special Event staff will make a recommendation to the Economic Development Manager and Budget Manager(s), City Manager and/or City Council. Fee Reductions may include the following City Service Fees associated with Special Events - Special Event Permit, Building Department Permit , Public Safety Personnel, Equipment Rental, Field & Parks Rentals, Facility Rentals, Special Use of Public Parking, Trails Fees.
In order to apply for a Fee Reduction, applicants must request an estimate of event fees from the Special Events Department; estimates will be made available by the Special Events Department no later than one week (7 days) prior to the Application deadline. All Fee Reduction Applications should be sent to jenny.diersen@parkcity.org by the deadlines as follows.
April 1st for events held July 1, to December 31,
Fee Reduction Application shall be completed in its entirety by the Event Organizer. Applications are due by April 1. Fee Reduction applicants will be notified by May 15.
October 1 for events held January 1, to June 30,
Fee Reduction Application shall be completed in its entirety by the Event Organizer. Applications are due by October 1.. Fee Reduction applicants will be notified by November 15.
Eligibility for full or partial fee reduction shall be determined by the Economic Development Manager, City Manager or his or her designee or City Council upon consideration of the following criteria of the event, none of which shall be individually controlling:
1. Charges admission or fees for participation and policy for attendees or participants unable to pay such fees.
2. Provides free programs, or raises funds for organizations or free programs, benefiting local youth, seniors or undeserved constituents.
3. Provides positive tax benefits, raises funds or provides revenue opportunities to the City to offset City services and costs required by the event.
4. Provides event opportunities during resort off seasons, defined as: September 21 through November 15 and April 1 through May 15 excluding holidays.
5. Demonstrates that the imposition of fees would create a financial hardship on the applicant or would have a detrimental effect on services provided to the public.