SPECIAL EVENTS OFFICE HOURS
Monday - Friday
8:00 a.m. - 5:00 p.m.

LOCATION
City Hall, 3rd Floor
445 Marsac Avenue
Park City, UT 84060

Contact Us
Jenny Diersen
Special Events Manager
435-640-5063 (cell/text)

Chris Phinney
Special Events & Facilities Coordinator
435-615-5194 (office)
Heather Weinstock
Special Events & Filming Coordinator
435-615-5187 (office)

Stephanie Valdez
Administrative Analyst
435-615-5201 (office)
*se habla espanol
2023 - 2024 Winter Events
The 2023/2024 Special Event Calendar is filled with many activities. Below you will find a list of major events that the City permits within Park City Limits from November to April 2023. See the individual event tabs below for additional information two weeks ahead of the event.
If you want to know more, you can always go the individual event website as well. For a complete list of all activities in Park City and Summit County: visitparkcity.com.
Special Event Parking Rates (Winter 2024)
The Winter Special Event Parking Rates for Sundance Film Festival can be found
here
. During other winter events, parking rates will remain
standard rates
.
Parking rates during major events are intended to encourage alternative modes of transportation during our busiest times. These rates are based on data and balance of needs for businesses and the community. Transit and bus schedules are increased during events and can be found
here
.
During Special Events, Main Street employees with Carpool, Business or Employee passes should park in North Marsac, Gateway or Flagpole Lots. If those lots are full, parking is available in China Bridge or Sandridge Lots as space allows. Parking is not guaranteed and fills early. Please take time to plan alternative modes of travel.
Special Event Access Passes
Why?
As part of the City's transportation goals, during major events, staffing is put into place to protect residential streets from cut through traffic.
What?
Event Access Passes help residents and businesses get though check points, to their home/business during major events. Special Event Access Passes are NOT parking passes. During hard closures of streets, residents will not be able to access closed roads.

2024 will be distributed door to door in December. These passes are valid for all major events. You can keep your hang tag year round.
Which Events are these Valid For?
Event Access Passes are valid on the following days. We may add additional events as needed.
Park Silly Sunday Market
Savor the Summit
Fourth of July Celebration, July 4
Park City Kimball Art Festival
Miners' Day
Halloween on Main
What if I lost mine or need another one?
Send us a text or give us a call and we will help you. We will need to confirm your address to validate that you need an Event Access Pass to get to private parking at your home or business. You can also stop by the Special Events Office, 3rd Floor at City Hall (445 Marsac Avenue), Monday-Friday, 8:00 a.m.-5:00 p.m.
I am having guests over, can they get one?
Maybe. If you have enough private off street parking for your guests we are happy to provide additional passes. If you are having guests over and don't have private parking, please refer to the Special Events Community Information website for additional parking and transportation options.
More Questions?
Please reach out to jenny.diersen@parkcity.org or text 435-640-5063.
Interested in hosting a block party in your neighborhood? Click
here
to find out more of what you need to know.
Event Specific Information
Sundance Film Festival 2024
The 2024 Sundance Film Festival will take place in Park City from January 18 to 28. This year's Festival marks the 40th Anniversary of the event. Old Town Impact Notice can be found here.

More information regarding the event will be released soon. For more information from Sundance Institute, please click here.
June 24, 2023
Savor the Summit will be held on Saturday, June 24. During this event, Main Street closes to create one long dinner table. This tradition has been going on for more than 30 years.

Impacts: The east side of Main Street closes to parking in order to facilitate deliveries beginning at 6:00 a.m. At 1:00 p.m. the entire Main Street closes so restaurants can set up for the evening event. We anticipate the street reopening to traffic around midnight. *Please note there is a partial road closure on lower Main Street on Sunday, for the Park Silly Sunday Market.
For information about the event, including which restaurants have reservations available, please click here.

Free Parking with Free Transit is available from Deer Valley Resort.

Employees with permits can park in North Marsac, Gateway or Flagpole Lot.

Drop and Loading areas for lodging shuttles, taxis and for-hire transportation will be at South Marsac, Brew Pub Lot and Bob Wells Plaza. DLS zones will not be operating due to the closure of the street.
July 4, 2023

Park City's Fourth of July Celebration will be hosted on Tuesday, July 4, 2023. The day kicks off with a 5K fun run, parade (begins at 11:00 a.m.), games and gathering in City Park and will culminate with a drone show at Park City Mountain resort.
If you are interested in participating in the Fourth of July Parade, Applications are due by June 12, and can be found here.
A list of Park City and Summit County events throughout the holiday weekend can be found here.

Please review the impact notice for information on parking and transportation information and make sure to review the impact map for additional details.
Not sure where to watch the drone show from? Park City Mountain Resort is best. You should also have a good view of the show from Park City Golf Course, City Park and Lower Main Street.
Extreme Soccer Tournament
The Extreme Soccer Tournament will be held Thursday, July 27 to Saturday, July 29. The event celebrates its 20th year is an annual fundraiser for local Park City soccer programs for underserved children who would be unable to play without this important event.
The event includes fields from several jurisdictions including Park City, Summit County/Basin, Kamas Valley and Heber. Less than 1/3 of the games are played in Park City proper.
The community should expect increased impacts to traffic especially near field areas (in Park City this includes Park City School District and Quinn's Junction). Please carpool if planning on using trailheads in this area and slow down and watch for pedestrians.
More information and details about the event can be found
here
.
Park City Kimball Arts Festival 2023
The Park City Kimball Arts Festival will be held from Friday, August 4 to Sunday, August 6, 2023. The event brings more than 200 artists from around the county to Main Street, and serves as the Kimball Art Center's largest fundraiser with more than 50 years of tradition. Event information regarding the Park City Kimball Arts Festival can be found at the Kimball Art Festival's website here.

Impacts: All impact information including parking, transportation, road closures, delivery notice and other details can be found here (English and Spanish). Main Street will close to parking beginning on Friday, August 4 at 3:00 a.m. and will reopen by midnight on Sunday, August 6. Additional parking closures in surface lots may occur beginning on Wednesday, August 2. Please plan ahead and consider alternative transportation to and from the event.
All Special Event Access Passes (Swede Alley and Park Ave) were initially distributed in June and are access passes for private parking on Park Avenue or Swede Alley - these are not parking passes. There is no access to China Bridge from Swede Alley, you must enter and exit China Bridge from the top on Marsac Avenue. If you have additional questions about vehicle access, or where to direct employees or guest for parking, please contact the City's Special Event Manager, Jenny Diersen directly by texting her at 435-640-5063.

Employee Wrist Bands (from Kimball Art Center):
Use this form to request Main Street Employee Access Passes and Locals Night wristbands (only for employees who are non-Summit County residents) for the 2023 Park City Kimball Arts Festival, August 4th-6th: https://forms.gle/Q9oVKcqNWT9ddqfR8.

Kimball Art Center staff will deliver employee access passes in-person to businesses on Thursday, July 28th. If you need additional employee passes after they are distributed, please contact KAC's Visitor Services team at frontdesk@kimballartcenter.org and you can pick up passes at the Kimball Art Center during our open hours, Tuesday-Friday 10am-6pm and Saturday-Sunday 10am-5pm.
Please note that Employee Access Passes are gate access passes only and are not considered festival admission. These passes will allow your employees to by-pass the entry gates on their way to work. If your employees would like to participate in the festival - purchase artwork, participate in Studio on Main activities, or socialize at the food and bar areas - they will be asked to purchase a festival wristband.
New this year, KAC will also distribute wristbands for Locals Night to Main Street employees who do not reside in Summit County. Please only request wristbands for employees who do not reside in Summit County. All Main Street employees who reside in Summit County must request their own Locals Night wristbands here: https://www.etix.com/ticket/p/6587824/friday-summit-county-residents-54th-annual-park-city-kimball-arts-festival-park-city-kimball-art-center
Additional information from the Kimball Art Center can be found here.
September 4, 2023
The Miners' Day Celebration is the longest running event in Park City and has been happening for more than 125 years. The event celebrates Park City's mining legacy begins with a fun run and pancake breakfast, which is followed by a parade and culminates with games and mucking and drilling demonstrations at City Park.
Event Impacts:
On Monday, September 4 Main Street and Park Avenue will be closed from 6:00 a.m.-1:00 p.m. for the parade. Please review notices below for details, information on parking and impacts.
Looking for a place to park your e-bike? Check out this e-bike parking map here.
Deer Valley Music Festival and Concert Series
Deer Valley Music Festival and Deer Valley Concert Series are ticketed concerts hosted at Deer Valley Resort. More information on upcoming schedule and availability for tickets can be found on the websites linked above.

In order to mitigate traffic, the City and Deer Valley have collaborated on additional traffic plans to increase transit priority and protect residential areas during events that hold over 3,500 attendees (with 2 weeks notice). These traffic changes are planned for the exit of concerts, however, please plan ahead, expect increased traffic and traffic changes in Deer Valley and carpool or take transit. We anticipate operating the traffic plan on the following dates (based on ticket counts as of 7/26/23):
Friday, July 28
Thursday, August 3
Friday, August 4
Friday, August 11
Saturday, September 2



Park Silly Sunday Market 2023
June 4, 11, 18, 25; July 9, 16, 23; September 3, 10, 17, 24 from 10:00 a.m. to 5:00 p.m. on lower Main Street (Heber Ave to 9th Street)
Park Silly Sunday Market will be held on lower Main Street (between Heber Avenue and 9th Street) on the days listed above. The market is free and open to the public and occurs from 10:00 a.m. to 5:00 p.m. with vendors, live music and various non-profits.
More information regarding the Park Silly Sunday Market's weekly happenings can be found
here
.
Ride Park City's free transit system from Park City High School and Richardson Flats Park and Ride to get to Main Street. Transit goes through the High School every 10 minutes and through Richardson Flat every 40 minutes. If taking transit look for the Silver Route at Richardson Flat, and the Red or Yellow Routes at the High School. More information regarding transit routes can be found
here
.
Special Event Parking Rates are linked
here
. The best way to access public parking and avoid traffic is to take Deer Valley Drive through the roundabout to Marsac Avenue to the Top of China Bridge parking structure. There are also other private parking structures throughout the Main Street area with various payment structures and regulations.
Employees with permits should park in Flagpole, Gateway (accessed from Swede Alley) or North Marsac (accessed from Marsac Avenue) to allow additional visitor parking in China Bridge Parking Structure.
Resident Access Passes will be required on Hillside Avenue. Additional mitigation will be in place to reduce traffic in residential areas. Please do not cut through Park Avenue or Hillside to access Main Street. More information about resident access passes can be found above.
October 31, 2023
Park City's Howl-o-ween Celebration will be held from 3:00-6:00 p.m. on Tuesday, October 31. This local's event is hosted by the Historic Park City Alliance and brings the community together in costume with our favorite four-legged friends.
Event Impact Notice can be found
here
.
Saturday, October 21, 2023
Raise your glasses for Park City's 7th annual Shot Ski event, hosted by Park City Sunrise Rotary Club. Participants will line Park City's Historic Main Street to throw one back on Saturday, October 21 at 2:00 p.m.
To go to the direct event website please click here. This event is sold out, but you can still come join the fun on Main Street.
Event Impacts
Parking removed on Main Street from the top of Main (near Treasure Mountain Inn) to Heber Avenue.
Road closure is expected between 8:00 a.m. and 4:00 p.m.
Normal parking rates in China Bridge (free) and Swede Alley surface lots.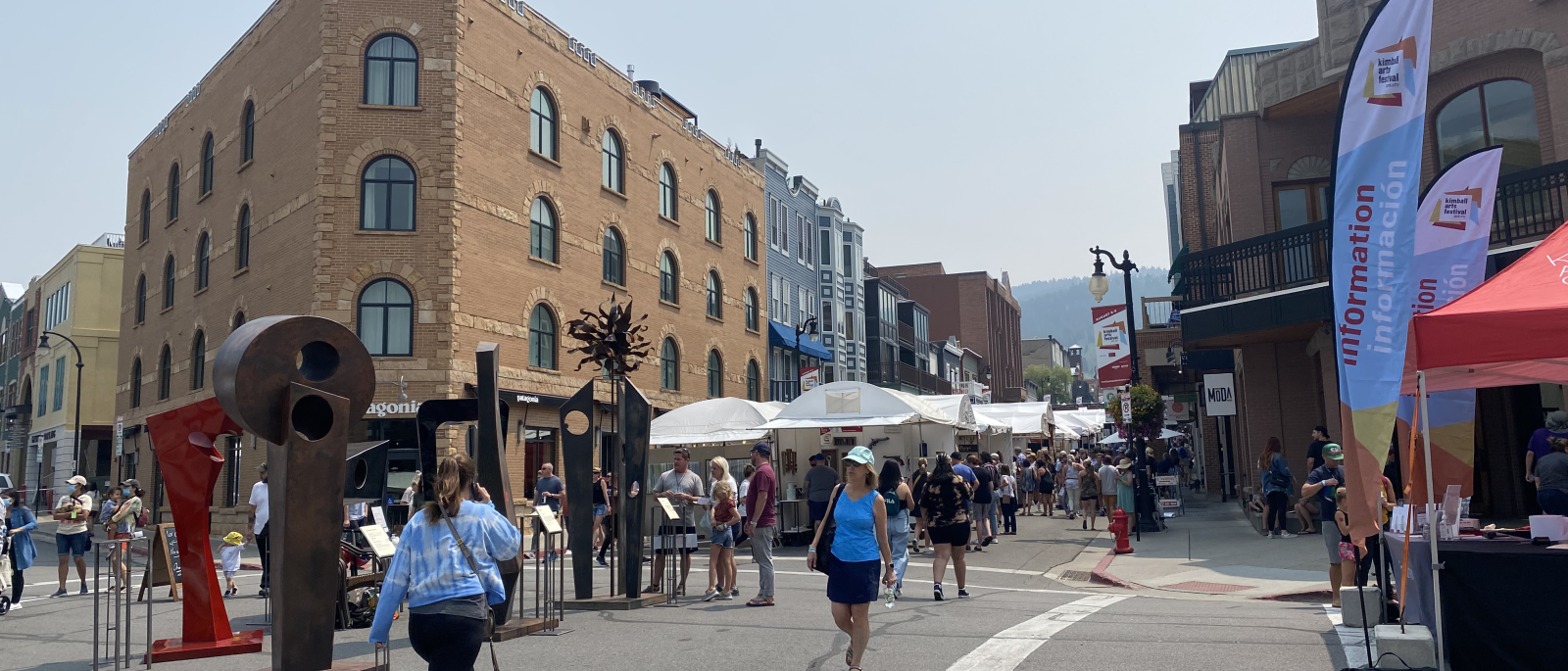 Stay Informed
Tune into KPCW 91.7 for Special Event updates throughout the summer
Sign up for travel and event-related text alerts. To subscribe, text PCEVENTS to 888777