About the League
Park City Ice Arena strives to offer the opportunity for adult league play for all ability levels. However, league play may not be available for all ability levels. We strive to offer recreational hockey programs that are fun and safe, assist participants in developing their athletic skills, teach and uphold the concepts of team play and sportsmanship. To reach these goals, it is imperative that Park City Hockey League (PCHL) participants follow the rules of the game, respect players, referees, scorekeepers, and Ice Arena Staff, and practice good sportsmanship.
There are currently three levels of play; Open Gold (very advanced through high intermediate), Silver (intermediate), and Bronze (rookies and/or 45+ years of age).
For more information contact us at PCHL@parkcity.org.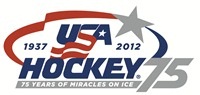 All players must be registered with USA Hockey.

(Click on the USA Hockey Logo to register.)
No refunds or credits issued within 2 weeks of the start of the league. League games may be rescheduled due to the COVID pandemic. If the Ice Arena cancels a league due to the pandemic, refunds or credits will be issued.