Sundance and Special Events
Skip the line and go online!
Special Event Information
Click here for the Special Events website which covers parking rates and impacts.
Sundance General Parking Information
Public, general paid parking will be available at the China Bridge parking garage. The following parking rates will apply: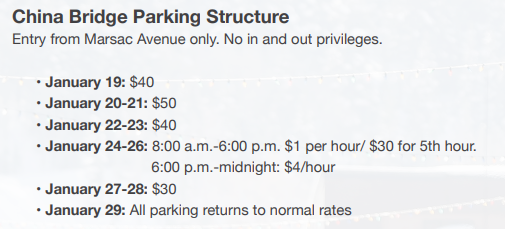 Visitors may pay for parking with the GoParkCity Tex2Park service or at any parking meter in the garage.
China Bridge Black Parking Permits
The China Bridge Black Parking permit allows for guaranteed parking and unlimited entry and exit in a designated section of the garage. This permit costs $550. Please follow the link below and read the instructions for submitting this permit application.
China Bridge Guaranteed Parking Black Permit
Special Use of Public Parking (SUPP) permits during Sundance
From January 19-29, a Special Use of Public Parking permit is required to load in/out of venues and for the use of crowd management.
Red Permit
For large-scale loading operations (only permitted between 4:00-10:00 a.m. on designated days). First opportunity to load-in is January 19. First opportunity for load-out is January 24 (Day 6) after the start of the festival. LOAD-OUT is not permitted during the first Thursday-Monday of the festival. Vehicles may be over 15 feet in length.
Green Permit
For the active loading of smaller loading operations such as catering, food/beverage or linen service, musical equipment (Allowed during day and evening with specific parameters on location and timing) Vehicle may not exceed 15 feet in length.
A Special Use of Public Parking permit is required for utilizing parking stalls for the purpose of crowd management.
Special Use of Public Parking Permit Applications
Old Town Employee Parking
Current and valid OTB, OTE, and Carpool permits will be honored in the employee-only Flagpole parking as well as the Sandridge parking lots. Employees are encouraged to carpool and ride Transit from the Homestake parking lot and Richardson Flat park and ride.
Additional Sundance Event Parking