Park City Senior Citizens
The Senior Center is located on Woodside Avenue near City Park. The building is owned by the City and provided at no cost to the program. The program is made possible by the Federal Administration on Aging through the Mountainland Association of Governments' Agency on Aging and with the support and direction of Summit County. The Park City Senior Center is one of three located in Summit County.
The Senior Center is open from 10:00 a.m. to 3:00 p.m. on Monday and Thursday with lunch served at 1:00 p.m. Contact the Center for more details.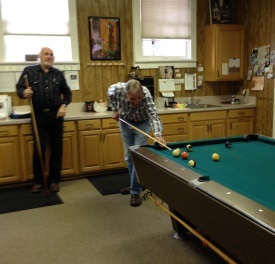 Location:
1361 Woodside Avenue
435-649-7261
Board Members
President: Judy Maedel
Vice President: Demi Glennan & John Gurrola
Secretary: Sybil Roscoe
Board Members: Paul Wisniewski, Jo Reid, Carleen Gardner, Hank Nazelwood, Loucille Boivin, Dan Schweikert
For more information about all Senior programs and all three Centers, go to the Summit County website. You may also call the staff at 435-336-3014.

PARK CITY AL Study REPORT

Information on Transportation Services
Park City Senior Survey Results
Summit County Senior Survey Results
Mountainland Department of Aging & Family Services