The Community Engagement team is part of the City's Sustainability Department. We are responsible for community outreach, citizen-engagement initiatives, social media, media inquiries, and emergency communications. Our goal is to sustain and enhance the Park City community through a broad range of public involvement activities.
For additional information on our most recent programs please visit the following links:
Community Engagement Team
Linda Jager, Community Engagement Manager
435-615-5189
linda.jager@parkcity.org
Tanzi Propst, Digital Communications Coordinator
tanzi.propst@parkcity.org
Emma Prysunka, Communications Specialist
435-615-5206
emma.prysunka@parkcity.org
Clayton Scrivner, Communications Manager
801-597-8108
clayton.scrivner@parkcity.org
Community & Public Affairs News
"Wild City" Mural: Call for Participants!
Park City Municipal Corporation has commissioned artist Emily Herr to create a series of energetic and colorful murals, titled "Wild City" on the walls of the China Bridge parking structure. Herr is a professional artist and muralist, who specializes in context-based design using playful imagery, and is passionate about public art.
Community members are invited to make their mark and participate during paint days.
Sign up here
.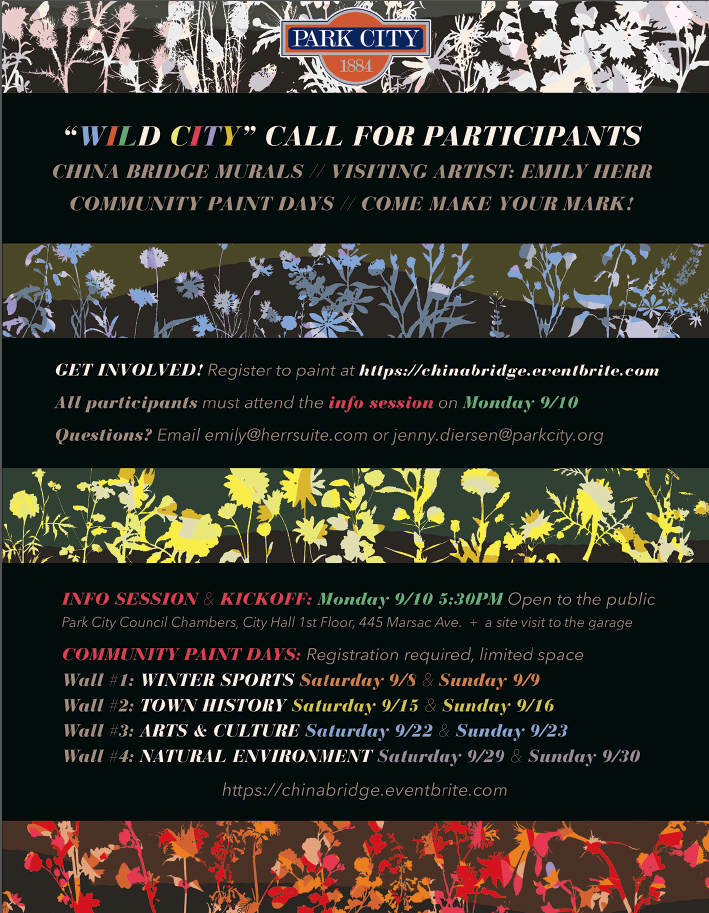 Return to full list >>
Twitter
Feb 07

This post was not retweeted

The #PlanningCommission will convene Wed., Feb. 8, at 5:30 p.m. Agenda highlights: • Water wise land management co… https://t.co/MKNP6hgGLt

Feb 07

This post was not retweeted

City Brief – a look at the week ahead in City meetings and news – is now available on our website. More informatio… https://t.co/0GSTeRov6H

Feb 06

This post was not retweeted

.@SummitCountyUT wants to know what you love about Summit County. What needs improvement? What do you want for the… https://t.co/o7swrHLBew
More Tweets