Members of Leadership Park City's Class 23 announce this year's class project
SAVE BONANZA FLAT
The Leadership Park City Class 23 has announced this year's project to support Park City Municipal and the coalition of outdoor and conservation non-profits working to save Bonanza Flat. The Class' choice to pursue this project was inspired by the community's response to save this parcel of land. Class members are currently soliciting donations from individual corporations and networks, as well as collecting items from local vendors and businesses to host an online auction. For more information about this year's fundraising project and how you can help and/or participate, please contact Sara Jo Dickens at sarajo@wesaveland.org or Colleen McGinn at mcginn.colleen@gmail.com.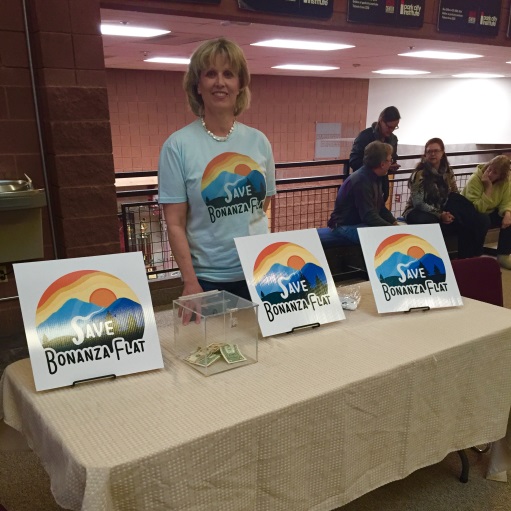 "Save Bonanza Flat" logo design by Jameson Harper and screening by Motherlode T-Shirt Company.
Leadership Park City Announces Class 23
PARK CITY, Utah (Sept. 27, 2016)—Myles Rademan and the selection committee for Leadership Park City have announced the 23rd Leadership Class. The 32 members, which include one student from Park City High School, were chosen from more than 100 applicants.
"We are gratified that—even after 23 years of conducting this program—we, once again, had a record number of applicants," said Rademan, the program's founder and coordinator. The quality of those who applied this year was outstanding—making the selection process difficult. I'm looking forward to another amazing year with this new group."
Applicants hailed from Summit, Wasatch, and Salt Lake Counties, though all have some connection to Park City through their work or home. "Our problems are regional," said Rademan, "and our applicant pool reflected this. Having a class that represents a cross-section of the Wasatch front and back will help us develop holistic solutions for our larger community."
In their applications, many candidates expressed concern about the accelerated rate of change they've observed in Park City. "I was very struck by the applicants' intense love of their community," said Rademan. "Those who apply are not bystanders: they don't just complain about problems—they want to solve them."
Those candidates who were not selected for this year's class are encouraged to reapply in the future. "I am always sorry that we cannot accept all of the applicants because they all demonstrate a passion for their community," said Rademan. "It's just not feasible because of budget and logistical constraints. But I hope those who were not accepted will not be discouraged and will consider reapplying."
The Leadership program also includes two events open to the public: a one-day "Leadership 101" class in February and a community lecture in March. Those unable to take part in the formal program are encouraged to attend these shorter-form programs.
Rademan also emphasized that Leadership Park City is but one way to give back. "Park City has such a rich civic life: we have so many community meetings, nonprofits, task forces, and commissions—all of which rely on an engaged citizenry to succeed." Taking part in any of these will also better prepare candidates for the Leadership program.
Following are the 32 members of Leadership Park City Class 23. The selection committee would like to extend their congratulations to everyone:
| | |
| --- | --- |
| Adriane Herrick Juarez | Kieran John Ahern |
| Bill McGinnis | Kirsten Whetstone |
| Brian Kahn | Lauren Joyce |
| Caroline Ferris | Lori Kun |
| Catherine Bradley | Lydia Rupnow |
| Christopher Neville | Lynne Rutan |
| Colleen McGinn | Mary Potts |
| Dar Hendrickson | Rebeca Gonzalez-Rocha |
| Devery Karz | Rebecca Ross |
| Elora White | Robert McKinney |
| Franco Pedraza | Ryan Walsh |
| Jeffrey Fish | Sara Jo Dickins |
| John Kenworthy | Shelley Marshall |
| John Kucera | Thomas Horton |
| John Sale | Riki Case |
| Karen Christian | Will Hamill |
Leadership Class 23 Schedule 2016-2017
What is Leadership Park City?
This program identifies, encourages and trains new community leaders. It is patterned after other successful community leadership programs around the country and the Kellogg National Leadership Program sponsored by the W.K. Kellogg Foundation. Leadership Park City provides class members a long-term, group-oriented learning opportunity.
The class members are also required to envision, plan and bring about a class service project that will benefit the Summit County community in some way. These projects have included public art, green building, wind power, trails development, youth leadership, water conservation, voter awareness, community walkability, public transit usage, reduction of plastic bag usage, food sustainability and many more.
Purpose
Leadership Park City is a program designed to identify and train talented individuals to assume leadership roles. All those with a desire to learn more about the challenges facing the Park City community and are interested in becoming involved are encouraged to apply.

Leadership Park City broadens participants' experiences by . . .
• Acquainting them with the programs, processes and problems currently existing within the community
• Stimulating their interest in community activities and encouraging their active participation in local affairs
• Providing access to a wide variety of community resources that would be difficult to access elsewhere
• Familiarizing participants with one another and with leaders in the community
• Giving participants valuable personal leadership tools
• Curriculum

Myles Rademan
myles@parkcity.org


Matt Dias
matt.dias@parkcity.org

Minda Stockdale
minda.stockdale@parkcity.org
Myles Rademan has founded and directed the Leadership program for over 20 years. A native of Philadelphia, he worked his way West to Crested Butte, CO, where he was a city planner before coming to Park City. He has held many positions with the city and his influence can be seen everywhere, from the flowers on Main Street to the open spaces that will be preserved for many generations to enjoy.
Matthew Dias is the Assistant City Manager and assists Mr. Rademan in running the Leadership program. A native of Newton, Massachusetts, Matt spent almost 10 years working in Washington, D.C., for various members of Congress before returning to Park City Municipal. Matt and his wife are the proud parents of two children, Graham and Greta, and spend their free time enjoying the mountains and spending time with family.

Minda is an Analyst in the Executive and Sustainability departments and supports Leadership Park City. She grew up in Monterey Bay, California and first came to Park City in 2010. After a few years in New York City, she is glad to be back in the West hiking, running and skiing. She has a background in art history and records management, and enjoys writing, reading, history and the arts.
Opportunity
It is important to understand that Leadership Park City is intended to help aspiring community leaders network with one another while gaining important leadership insights. Participating in Leadership Park City is not a "resume filler," but offers a great opportunity to those serious about making a difference and helping shape Park City's future.

Leadership Park City is designed as a yearlong program. Ten individual sessions are scheduled, with a combination of full-day, half-day and evening programs. A multi-day field trip is also an integral part of the program. Most sessions last 6 hours. Experts on public policy, politics and critical thinking help participants frame community issues and discuss potential solutions. Lectures, group discussions, field trips and experiential "hands on" learning is used throughout the program.
The curriculum features:
• Group Building & Problem Solving
• Community Overview, Orientation & History
• Local Government, Legal & Infrastructure
• Planning, Development & Growth Management Issues
• Tourism & Economic Development
• Issues Forums: Affordable Housing, Environment, Open Space, Recreation, Arts and others
• Diversity Training
• Ethical Leadership
• Community Organizations & Citizen Participation
• Leadership Skill Training: Motivation, Empowerment, Conflict Resolution, Communication
• Diversity Training
• Field Trip: Experiential Learning
• Class Service Project benefitting the Summit County community in some way
• Participants will be given background materials and other pertinent information on the issues.
Leadership consists of 10 individual sessions (attendance is mandatory) beginning in October, with approximately one session per month during the fall, winter and spring, a 5-day field trip during the late summer, and several social events.
How To Apply For Leadership Park City
The on-line application process is simple and brief, usually taking 30 minutes or less to complete, but applicants should definitely read all the information concerning the leadership program on the City's website prior to applying. There you will find the program's vision, criteria for selection, and a listing of our over 500 alumni.
Applications for the 2017-2018 session, which runs October - October, will be available on the Leadership Park City page the last week of June. The application deadline is Friday, August 18, 2017.
Each year we receive between 75-120 applications for the 30 positions selected for each class. Those selected receive a scholarship valued at $2500 to participate in the program provided by our community sponsors.
Cost
Each participant is awarded a scholarship to cover the costs of the program. Scholarships are made possible through the generosity of the listed sponsoring organizations.
To Donate to Leadership Park City
Leadership Class 23 Members