Park City Municipal's Long-Term Strategic Plan
Through evolving and sustaining a complete community, the City Council of Park City Municipal Corporation developed four strategic goals (branches) and three critical priorities (gold leaves) that guide decision-making and provide the structure for ensuring that incremental, measurable steps are taken to achieve the community's vision and values.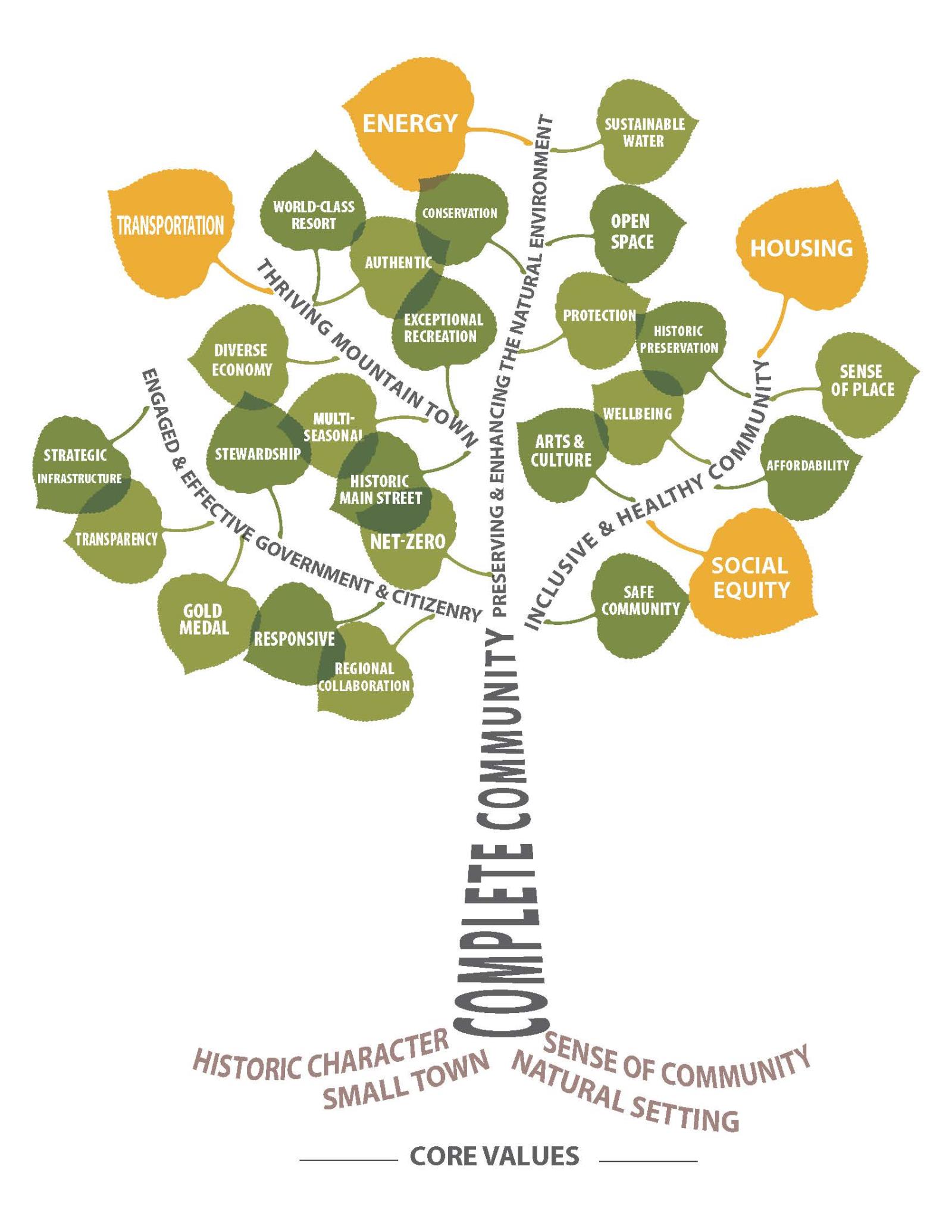 Click tree for more information

Community Vision and Values
In 2009 the City conducted a series of interviews, surveys, open houses, etc., to better understand the Community Vision or the way residents see Park City, what they value, and what they want local government to focus on. We learned that our mandate is to Keep Park City "Park City". The City's strategic planning process is designed to ensure that all city actions are geared toward achieving this Vision.
OPERATIONAL STRATEGIC PROCESS

Park City Long Term Strategic Plan
Park City Municipal's Long-term Strategic Plan gives us—full and part-time residents, PCMC employees, hospitality workers, and whoever loves Park City and is interested in ensuring its future success—the tools to align resources and decision making so that we do not run from uncertainty but embrace it and plan for it. Park City Municipal's Long-term Strategic Plan is comprised of the Community Vision and Values, a Mission Statement, Council Strategic Goals and Priorities, Desired Outcomes, and Key Indicators and is the definitive resource that aligns all of these components while demonstrating to the community the various efforts underway to realize their vision.
Park City Municipal Long-term Strategic Plan
Biennial Plan

The Biennial Strategic Plan draws on Park City Long-term Strategic Plan, Business Plans, and the Budget Document to give a summary of the City's approach over the next two years to pursue Council Priorities and the Community Vision. This document is used to report highlights of the Strategic Planning Process to Council during their annual Visioning Session, and is updated every two years. Progress on the Council Goals and Priorities are tracked using the following action item reports, organized by the Council Goals:
Preserving & Enhancing the Natural Environment
Engaged & Effective Government & Citizenry
Community Priorities
The Community Vision and Core Values were created based on extensive feedback from residents who expressed their desire to maintain many of the current characteristics of the city they call home. While Park City residents want to preserve the historic character and small town feel of the city, many also expressed concern about the lack of housing affordability, increasing traffic and congestion, the need to cultivate diversity, and the fragility of a snow-dependent economy. They believe that, left unaddressed, these issues threaten the future of Park City. These concerns are reflected throughout the vision and are addressed more specifically by Council's Priorities. The idea was to bring high focus to issues the City needs to "get right" and to be able to see progress on these issues by highlighting them and continually discussing them. These are the "marching orders" for the year, where Council would like to see a more detailed or specific plan of action. This action plan may include a new direction, plan, or resources in order to achieve the Council's priorities. Council reviewed and updated these priorities in their 2017 Council Retreat.
Critical Priorities:
If we don't get these right, they could have a significant negative impact on our community:
Transportation Congestion Reduction, Local and Regional
Develop and maintain a safe, energy efficient, and integrated multi-modal transportation system
Energy Conservation, Renewable Energy, Carbon Reduction & Green Building Incentives
Conscientious energy consumption and continuously evaluate opportunities to reduce carbon footprint
Housing Middle-Income, Attainable, and Affordable Housing
Facilitate a range of affordable, quality housing opportunities that meet the life-cycle needs of persons at all economic levels
Recognize our diverse populations within our complete community and strive for equitable public administration of services, justice and social well-being for all. Value and appreciate our differences and embrace our common humanity and contributions as the source of our town's strength.
Social Equity Goals and Strategic Objectives
Top Priorities:
City Council would like to see significant progress on these:
Business Plans
Each department or team has developed a business plan in which specific strategies are outlined along with associated Action Steps the department will take in pursuit of these strategies in the next year or two. These strategies and action steps are directly linked to desired outcomes identified in Park City Long Term Strategic Plan.
Budget Document

The City's budget process – "Budgeting for Outcomes" – is tailored to align with the strategic planning process.

In Budgeting for Outcomes, departments submit cost bids for each operating program and capital project at levels of service outlined in their Business Plans. These programs and projects are linked to the strategies in their business plans as well as the desired outcomes identified in Park City Long-term Strategic Plan. Each bid is then prioritized by a panel of City staff using a set of criteria that evaluates the degree to which the bid effectively achieves desired outcomes. In this manner, the City ensures that available resources are being funneled toward the programs and projects that best meet the Community Vision.
BUILT ENVIRONMENT STRATEGIC PROCESS

General Plan
The General Plan is the guiding document for all of Park City's land use planning efforts and related operations and projects. The document focuses on the four Core Values identified during the visioning process and outlines strategies and goals which the City will pursue in order to effectuate development in accordance with those values.
Land Management Code
The strategies and goals set forth in the General Plan are codified into a zoning ordinance and development standards contained in the Land Management Code. These regulations are critical to successfully Keeping Park City "Park City".