Leadership Park City Announces Class 24 Roster
Leadership Park City enters its 24th year with the 2017/2018 class
Post Date:
10/05/2017 2:39 PM
Park City, Summit County, Utah (October 3, 2017) — Leadership Park City is proud to announce the members of the 24th Leadership Class. The alumni selection committee selected 36 class members from an impressive group of over 120 applicants.
Applicants hailed from Summit, Wasatch, and Salt Lake Counties, though all have some connection to Park City through work or home life. Program founder and director Myles Rademan explained, "We are thrilled to once again have had a fantastic pool of applicants that made the selection process difficult. As a result, we have a larger class than is typical- 36 members. They are an outstanding and diverse group, and we look forward to a lively and productive year."
Candidates who were not selected for this year's class are encouraged to reapply in the future. The Leadership program also includes two events open to the public: a one-day "Leadership 101" class on Wednesday, February 7, and a community lecture in March. Those unable to take part in the formal program are encouraged to attend these shorter-form programs. Tickets will go on sale in early 2018. More information about the Leadership program may be found at http://www.parkcity.org/departments/leadership-park-city.
The selection committee would like to extend their welcome to incoming members of Class 24, and congratulate the graduates of Class 23: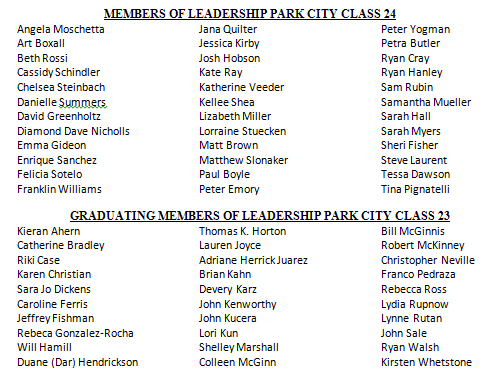 Return to full list >>