Prospector Avenue: Bonanza Drive to Sidewinder Drive
November 19, 2018 Construction Update
Thank you for your patience during the final stages of the Prospector Avenue Improvement Project.
The road has returned to the standard two-way traffic configuration as of November 19th.

Crews plan to finish the driveway asphalt tie-ins next week as weather permits*.

In the next few weeks, the contractors also plan to
*Please note the project team has contingency plans in place if weather does not cooperate. The striping and asphalt tie-ins will be completed before winter. Crews will need to return in the spring to finish final tie-ins for lasting quality.

Reminder:
We have experienced increased speeds through the work zone with the addition of the new pavement. Please obey all traffic laws and proceed cautiously through the work zone.
For More Information
The public information team is available to answer questions regarding the construction of Prospector Avenue at any time. Additionally, weekly email updates of the contractor's activities and schedule will be delivered.

We are interested in growing our distribution list to any and all who travel through the Prospector neighborhood. Please forward this email to tenants, neighbors, customers, clients, etc. To be added to our mailing list, please send us an email at the address below.

HOTLINE: 801-904-4064
EMAIL: prospectorave@utah.gov
Project Overview
Park City Municipal Corporation in coordination with the Utah Department of Transportation is improving Prospector Avenue between Bonanza Drive and Sidewinder Drive. The project will enhance and promote alternative multi-modal transportation uses and address roadway infrastructure needs by:
Creating a safe environment for all modes of travel
Reducing vehicular speeds by introducing a "complete street" cross section
Defining more efficient use of existing space by better marking travel lanes and bus pullouts
Upgrading the street lighting with LED fixtures
Improving the roadway drainage
Resurfacing the asphalt pavement
The project team is working closely with the Prospector Square Property Owners Association to coordinate with their recently completed Master Plan.
Public Outreach
A copy of the Meet the Contractor Open House flyer is available below. The meeting was held on June 28, 2018 from 5:30 - 7:00 pm at the Park City Marriott to introduce the contractor to the community. The presentation boards are available at the following links.

MEET THE CONTRACTOR OPEN HOUSE PRESENTATION - JUNE 2018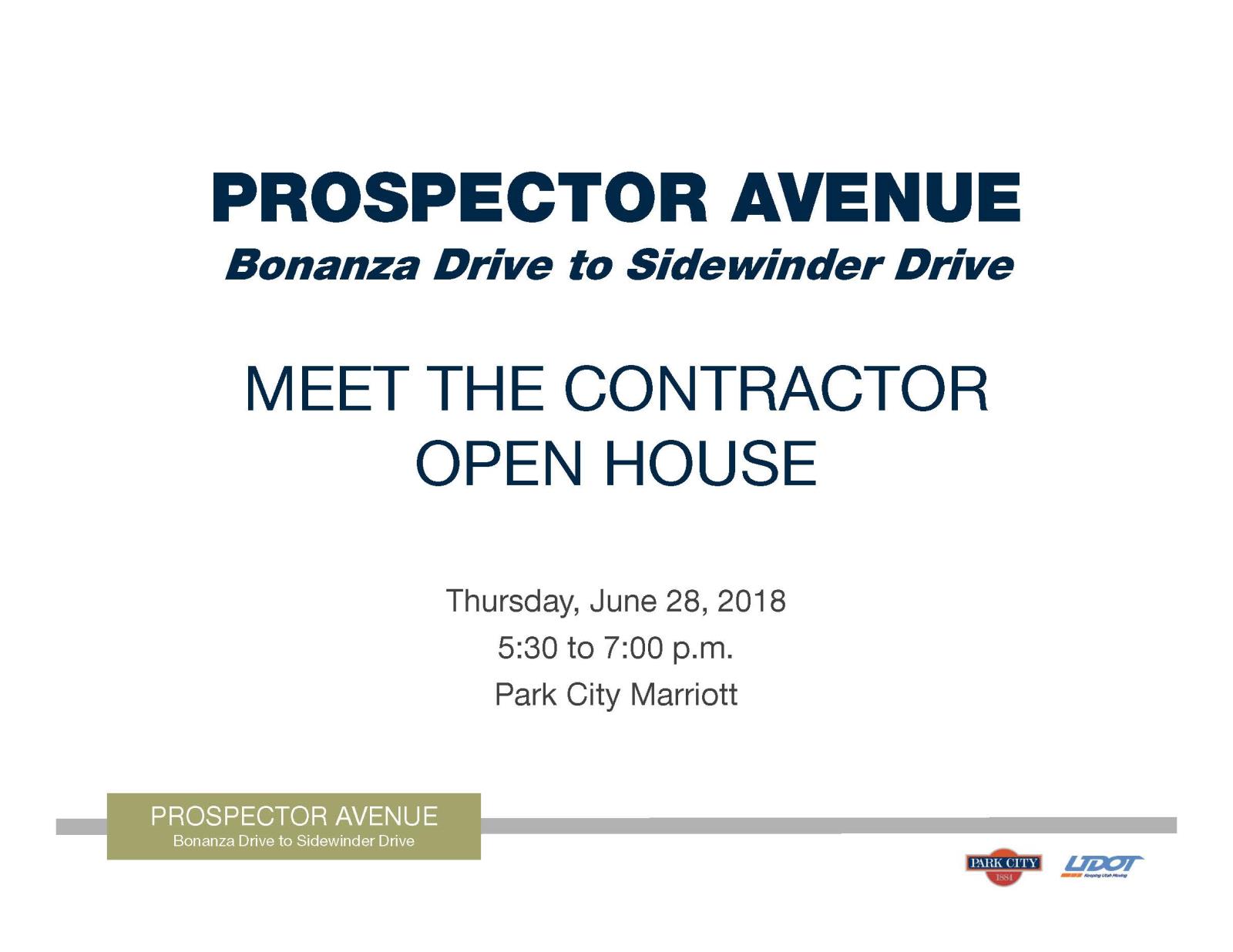 Park City hosted an open house on Tuesday, November 29th, 2016 to provide an opportunity for the public to learn more about the improvements along Prospector Avenue between Bonanza Drive and Sidewinder Drive. The information boards and the project map presented at the meeting available at the following links: