Circulation in the Old Town Commercial District
Staff is looking at ways to improve circulation and access in Old Town during peak times. Currently, double parking on Main Street, primarily due to transportation vehicles loading and unloading passengers, causes significant delays and congestion during busy times and seasons. Concerns over safety and access for emergency vehicles is high; and a need to help regulate parking and drop, load, and staging zones is necessary.
Drop, Load, and Staging Zones (DLS Zones)
Downloadable DROP AND LOAD ZONE MAP
Park City has launched a pilot curbside management program this winter season (2019-2020). The intent is to manage curbside space during the busy winter peak season to improve traffic flow, reduce congestion, and create better curbside access. Several drop and load and staging zones (DLS zones) on Main Street and Swede Alley for ground transportation vehicles are being installed.
Ground transportation vehicles include for hire taxis, TNCs (app-based rideshare companies), and lodging shuttles can utilize these premium drop and load zones. The initial zones have been identified based on feedback from stakeholders and restaurant/bar square footage (i.e. - where people are going). These areas have signage to identify them, with the intent to paint curb when weather permits: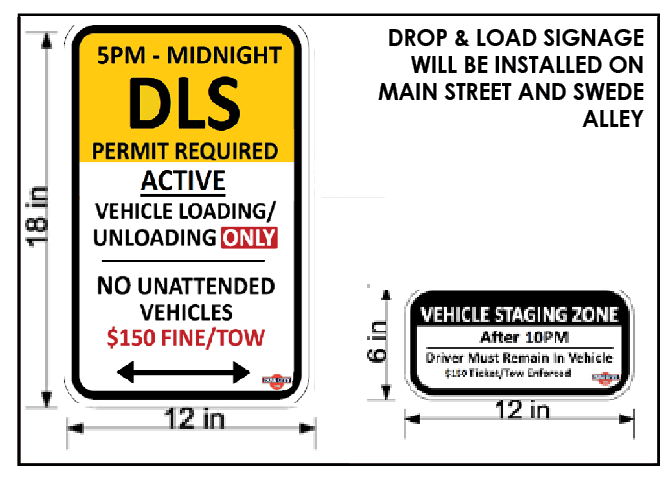 Many of the the drop and load zones require a paid parking permit from the Park City Parking Department to utilize. The purchase of a drop and load parking permit is not required, but will offer transportation companies the premium curbside access on Main Street. Increased enforcement of double parking (a moving violation) and incorrect use of parking areas (a parking ticket) will be implemented after an educational period.
Drop and Load zones on Main Street will be drop and load only from 5:00 p.m. to midnight, with the exception of the two asterisks below. The zones will be 15 minute parking for all users before 5:00 p.m.
The paid DLS Permit drop and load locations are as follows:
Grappa
Wasatch Brewery
350 Main*
Chimayo
Post Office**
Tupelo/Park City Museum
Bear Bench
Courchevel
7th Street/Zoom
*Staging is allowed at these locations after 10:00 p.m.
**Staging is allowed in this zone for those with DLS permits at all hours.
Free areas are as follows:
Swede Alley parallel spots in front of KPCW Radio Station - oversized (22,000lbs/35') vehicles use this area
Bob Wells Plaza Parking Lot
Brew Pub Parking Lot (top of Main Street at Swede Alley)
9th Street Turnaround
These locations are subject to change during the pilot program based on Staff monitoring and stakeholder feedback. There are several additional locations recommended that can be added to this plan if deemed necessary and appropriate.
Drop and Load Zones Info Packet **this is a great comprehensive resource for companies interested in DLS permits**
Click here for the DLS Permit Application
Project Team
This project is being monitored by Parking, Police, Transportation Planning, Engineering, Economic Development, Streets and Special Events.
To leave a comment or question about the program, please visit Engage Park City.
Or, contact:
Alexis Verson
Senior Transportation Planner
alexis.verson@parkcity.org
435-615-5317
Past Outreach
Staff have meet frequently with For Hire, Lodging and TNC stakeholders throughout this process. The basis for these recommendations stem on feedback heard in these meetings.
Lodging Board Meeting – August 7, 2019
Also had several meetings with City Staff and Lodging Stakeholders through spring and summer of 2019.
August 20, 2019 HPCA Board Meeting Notes & Presentation & Recap of 8/15 Council meeting
September 17, 2019 HPCA Board Meeting Notes (page 1 to 2)
For Hire Meeting Notes on October 17, 2019
For Hire Meeting Notes on October 28, 2019
DRAFT Summary of TNC ACT Regulations
Background
Managing impacts stemming from the growth of the tourism economy on quality of life of residents has been a balance since Park City evolved out of the mining era. Numerous administrations have suggested, tried and implemented multiple improvements that still exist today. Each of these studies focus on infrastructure, streetscape, pedestrian circulation and access aimed at ensuring Main Street could continue to be the "crown jewel" to be enjoyed by residents and visitors alike.
Staff are currently working on broader strategies, projects, and policies that can help positively influence the quality of life for those living, working, and visiting Old Town. The curbside management drop and load (DLS zones) are one piece to this effort.
November 21, 2019 City Council Meeting
Audio from the meeting
Ground Transportation Licensing and Parking Permits Staff Report
Agenda from November 21, 2019 Meeting
November 7, 2019 City Council Meeting
Old Town Access and Circulation Strategic Plan
Ground Transportation Business Licensing
Down Town Curb Management – Creation of Drop and Load, Staging Areas
September 12, 2019 City Council Meeting
Staff Communications Report (177 to 201) & Public Comments (page 6 & 7)
August 15, 2019 Council Meeting
Exhibit A Extensive Background & History of Old Town Circulation
Old Town Circulation Report (pg 11 to 159) / Minutes (pg 3 to 5) / Audio (1:03:10 to 2:42:32)
NEXT STEPS
Staff will begin implementation of DLS zones, and provide a soft roll out with training and education on our around the week of December 16, 2019.