Scavenger Hunt
In Partnership with Transportation Planning
June 26 - September 18
Park City Transit and Transportation Planning are teaming up to host a summer scavenger hunt! From June 26th until September 18th, follow the clues and complete tasks to earn points towards a variety of prizes. Walk, bike, and take transit to participate.
Activities are appropriate for all ages and abilities. The most important part? Having fun getting around Park City! Download your scavenger hunt here, or pick-up a hard copy from Public Works or the Old Town Transit Center. Keep an eye on Park City Transit's social media - Twitter or Facebook - for additional clues throughout the summer!
Please email Hannah Pack at hannah.pack@parkcity.org if you have questions.
¡Transporte Público de Park City (Park City Transit) y el Departamento de Planificación de Transporte (Transportation Planning) se están uniendo para organizar una búsqueda del tesoro en verano! Desde el 26 de junio hasta el 18 de septiembre, siga las pistas y complete las tareas para obtener puntos para una variedad de premios. Participe a pie, en bicicleta o en transporte público.
Las actividades son adecuadas para todas las edades y habilidades. ¿La parte más importante? ¡Divertirse recorriendo Park City! Descargue su búsqueda del tesoro aquí, u obtenga una copia impresa en Obras Públicas (Public Works) o en Old Town Transit Center. ¡Manténgase atento(a) a las redes sociales de Park City Transit - Twitter o Facebook - para obtener más pistas durante el verano!
Por favor, envíe un correo electrónico a Hannah Pack a hannah.pack@parkcity.org si tiene preguntas.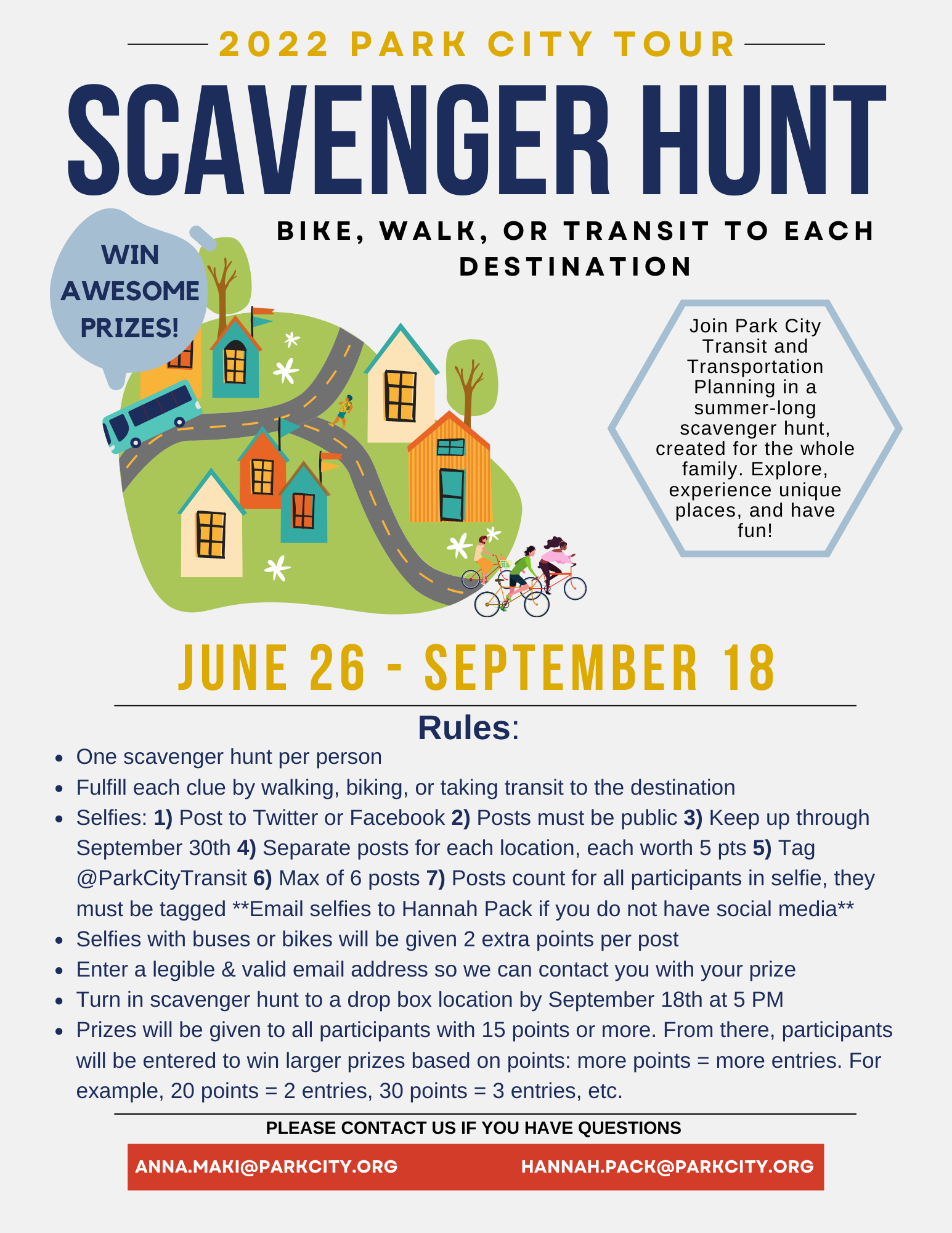 Drop Box Locations
Drop boxes for the finished scavenger hunts will be available throughout Park City from August 1 - September 18.
Locations:
PC MARC

Public Works

Old Town Transit center

PSSM Transit Booth - Sept. 18
Los buzones para las búsquedas del tesoro finalizadas estarán disponibles en todo Park City desde el 1 de agosto al 18 de septiembre. Las ubicaciones se enumeran arriba.