Tips For First-time Bus Riders: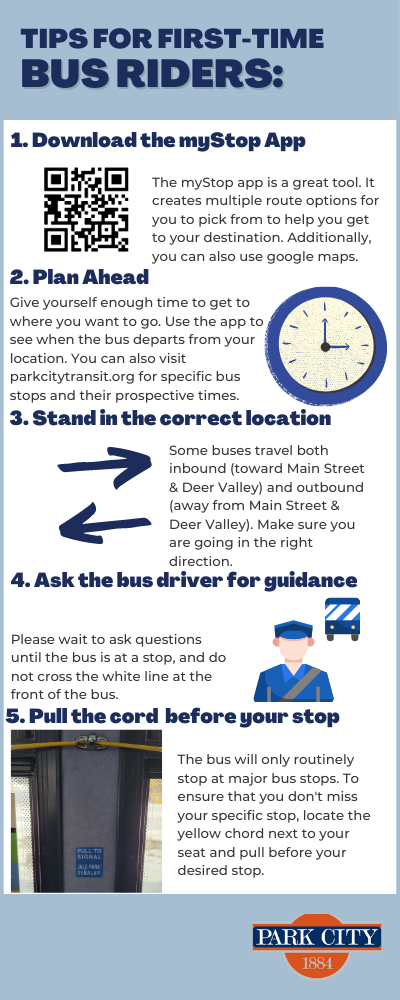 1. Download the myStop app
The myStop app is a great tool. It creates multiple route options for you to pick from to help you get to your destination. Additionally, you can also use google maps.
To download the mobile app by clicking here.
For the Android version, click here.
2. Plan ahead
Give yourself enough time to get to where you want to go. Look at the app to see when the bus departs from your location. You can also visit parkcitytransit.org for specific bus stops and their perspective times.
3. Stand in the correct location
Some buses travel both inbound (toward Main Street & Deer Valley) and outbound (away from Main Street & Deer Valley). Make sure you are going in the right direction.
4. Ask the bus drivers for guidance
Please wait to ask questions until the bus is at a stop, and do not cross the white line at the front of the bus.
5. Pull the yellow cord before your stop
The bus will only routinely stop at major bus stops. To ensure that you don't miss your specific stop, locate the yellow chord next to your seat and pull before your desired stop.
---
1. It's Fare-Free!
Park City Transit is fare-free year-round for everyone. It's free for locals and visitors alike.
2. You Don't Have to Worry About Finding Parking
During the busy seasons, you don't have to worry about looking for a parking spot or even paying for parking.
3. It Helps the Environment
Many Park City Transit buses are battery electric, meaning there are zero local emissions when you ride!