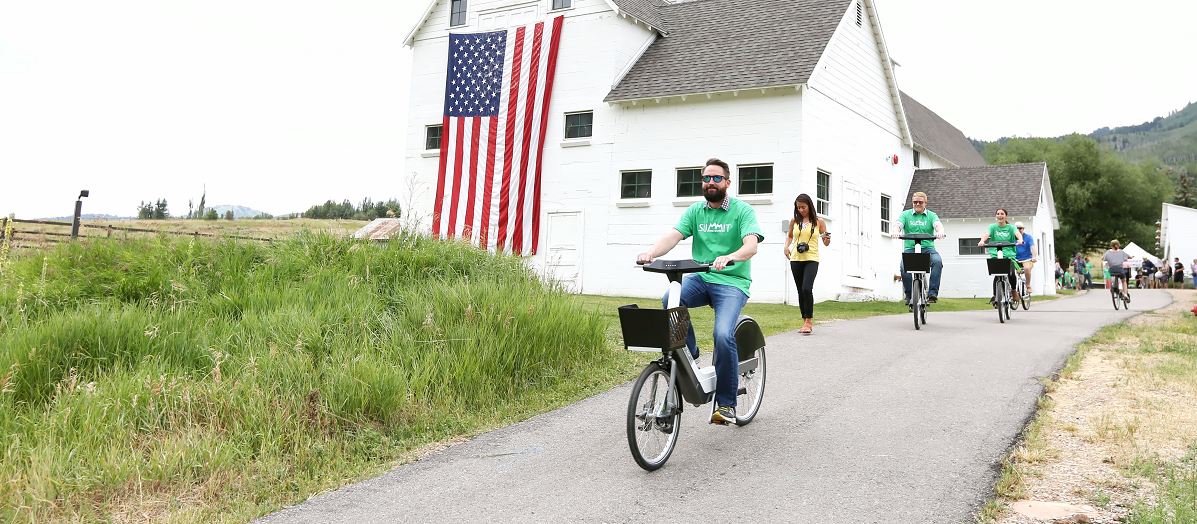 Electric Assisted Bicycle (e-bike) use is permitted on soft-surface trails wider than 5ft and all paved multi-use paths within Park City. A map of Multi-Use Paths that Allow E-Bike Use was created to help raise awareness of which paths permit use of e-bikes. This map is georeferenced and compatible with any georeferenced map mobile application. **Find instructions on how to use on the bottom of the page.
Public Safety, Education and Outreach
During peak cycling and walking season, the city works closely with Mountain Trails Foundation to raise awareness on path etiquette, safety and rules. Bicycle Safety Month, Ten Seconds of Kindness and Road Respect outreach campaigns are conducted annually as an effort to improve the safety and experience of the people using Park City's multi-use paths. Path users are asked to pledge to follow path rules and etiquette in order to ensure a safe and courteous atmosphere for everyone. The campaign messaging highlights path e-bike users' rules and responsibilities, including:
e-bikes are allowed on the multiuse pathway system and soft-surface trails over 5ft wide;
e-bikes are not allowed on single-track trails within Park City Limits*
users comply with the 15 mph speed limit on multi-use paths;
keep right, pass left;
give an audible alert before passing; and
bike lights are required, helmets are strongly encouraged, and reflective clothing is advised for nighttime use; and
Class III E-bikes which are defined by Utah State Code § 41-6a-102 (7-9, 16) as top speed of electric assist limited to 28 mph are only permitted on roadways.
* *E-bikes may be used on single-track trails for maintenance, events, emergency response, and ADA compliance.
For further E-bike policy information please read the applicable Park City ordinance, 10-1-4.5, the City Council staff report and the year-long pilot project approved by City Council.
Register to get additional information
.
How to Download and Use Georeferenced Maps:
These PDF maps are designed for use on your GPS-enabled mobile device and can be displayed on any georeferenced PDF viewers. When viewed in an installed georeferenced PDF viewer, each map is designed so that your location can be displayed on screen in real time.
Georeferenced PDFs have the same features as standard PDFs but also allow those with mobile devices to utilize 3rd party applications for viewing their current location within the PDF map if the mobile device supports location services.
**To take full advantage of the georeferenced functionality in these maps, a georeferenced map viewer is required. To find and download a georeferenced PDF viewer, go to an app store of your choice and search for "georeferenced PDF viewers" or "geospatial PDF viewers". Several free options are available and the most commonly used for Apple and Android devices is AVENZA. Consult the mobile apps instructions for complete information on how to use.
These maps can also be printed or viewed without using a mobile application.