Community & Municipal Carbon Footprint
Park City's Carbon Footprint


Carbon neutrality, or having a net-zero carbon footprint, refers to achieving net-zero carbon emissions by balancing the carbon released to the atmosphere (largely from combustion of fossil fuels) with an equivalent amount of carbon trapped away from the atmosphere or offset by renewables. Carbon, in this sense, is actually a catch-all phrase for several greenhouse gases that we capture, e.g., carbon dioxide (CO2), Methane (CH4), and Nitrous oxide (N2O). These are also referred to Carbon dioxide equivalents, or CO2e.
This means that we will balance the amount of CO2 equivalents that we emit with the amount that we save by transitioning to renewable energy, efficiency measures, and improving carbon sinks such as forested open space.
Emissions are classified into three categories for measurement:
Scope 1 refers to on-site natural gas and other fossil fuel combustion, e.g. fleet and transit fuel.
Scope 2 refers to indirect emissions that come from purchased electricity production.
Scope 3 refers to emissions that come from other business activities. These emissions are notoriously difficult to calculate.
Community-wide Carbon Footprint
Park City was the first community in Utah to conduct a baseline carbon inventory for the whole community, for the year 2007. You can find the report here. Park City has recently completed a new community-wide carbon footprint in order to track progress towards our net-zero carbon goal. Here are some highlights and you may read more here:

Park City Community-Wide Footprint


Park City's Municipal Carbon Footprint
Park City has implemented various measures to mitigate its internal carbon footprint. Through solar installations, energy and water efficiency measures, employee engagement, and creative transportation solutions, we have saved hundreds of thousands of dollars and prevented countless tons of CO2e. Not counting our new green buildings, the integration of retrofit measures into existing facilities are now saving the city (and taxpayers) over $260,000 per year. The greenhouse-gas reductions from these efforts are equivalent to the annual operations of 4.3 City Hall buildings.
As of 2017, we are offsetting approximately half of our electricity consumption with Renewable Energy Certificates (RECs) through our utility. Our goal is to bring new renewables online to power 100% of our municipal operations by 2022, and hence bring our Scope 2 emissions to zero.

In 2016 Park City's carbon footprint was 16,697 MT CO2e.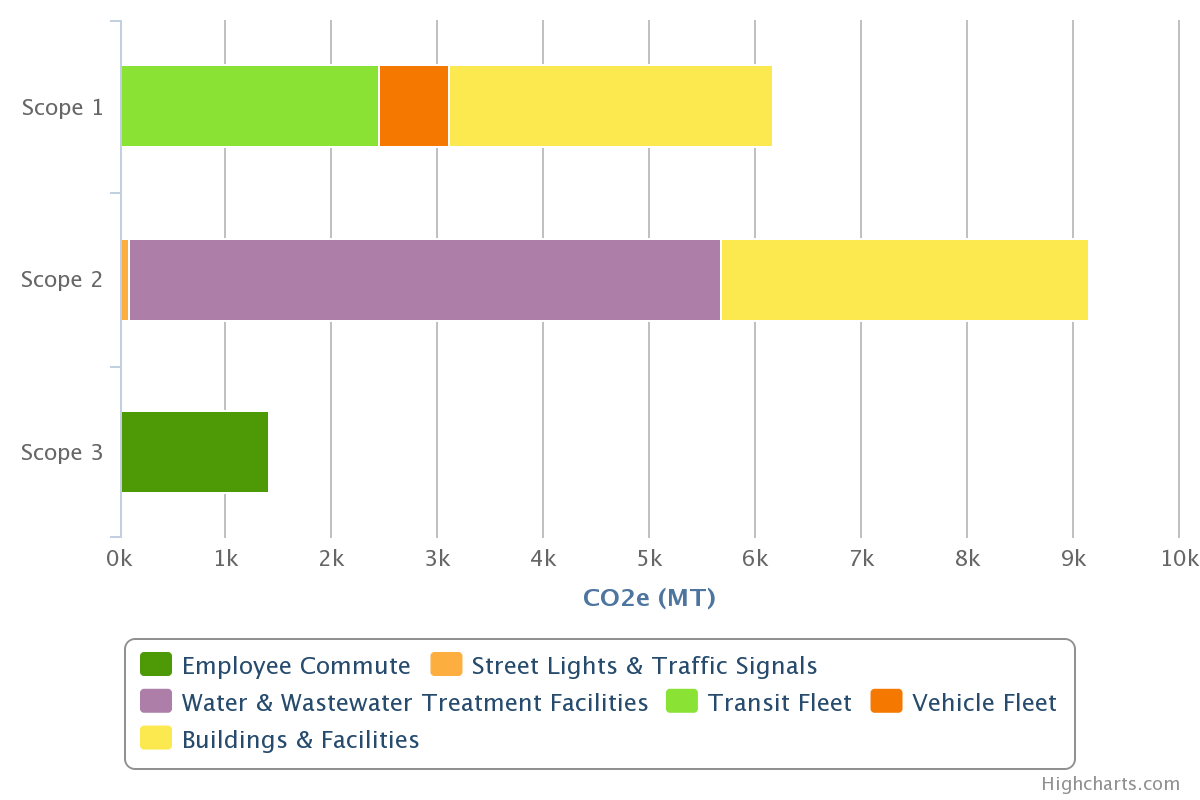 Here you can read a high level overview of actions that City Staff are implementing to mitigate Park City's municipal footprint.
For more information, contact Celia Peterson 435.615.5193 or celia.peterson@parkcity.org.