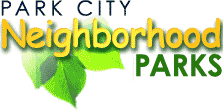 Give Me Space!
Park City values open space and is happy to provide neighborhood park facilities for your enjoyment. These parks have play equipment for a variety of ages. New Prospector & Racquet Club parks also feature arch climbing boulders. The South End of City Park and Rotary Park can be reserved for use whether you're a resident or just visiting.
South End City Park & Rotary Parks Reservations
Parks Reservations are taken beginning January 1st for South End City Park and Rotary Park.
Call Karen at 435-615-5413.