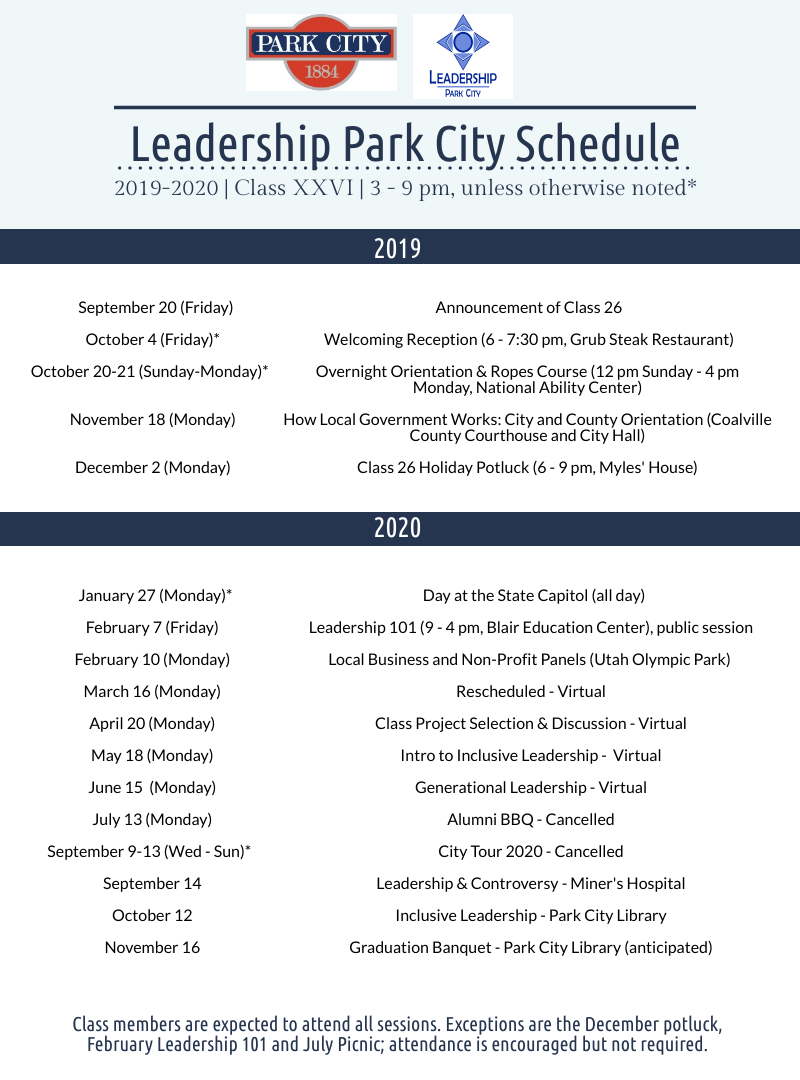 Leadership Park City Class 26 Announces Class Project
Class 26 of Leadership Park City will focus on kindness, Census awareness and communication amid COVID-19

Summit County, Utah (April 20, 2020) — Leadership Park City's Class 26 is proud to announce their class project. As part of the year-long program, the class envisions, plans, and implements a class service project to benefit the Summit County community. In past years, projects have supported public art, green building, water conservation, voter awareness, and many more. Each year, projects are selected by the class through a voting process during the March session, held virtually in 2020 due to the impacts of the COVID-19 pandemic.
In response to the pandemic, this year's class voted in support of a 'Leadership Network' effort focused in three areas: a Park City of Kindness campaign, community awareness of the 2020 Census, and support of the Neighborhood Network program through Park City Municipal.
Park City of Kindness aims to inspire kindness in our community by leading, educating, and encouraging compassion, gratitude, and joy through partnership with local government, businesses, schools, neighbors, and non-profit organizations. For 26 days, beginning April 22, Park City of Kindness will encourage the community to share what they are grateful for tagging #26DaysAttitudeOfGratitude, @ParkCityOfKindness (Facebook), and @ParkCity_of_Kindness (Instagram) on social media. For additional details, resources, and inspiration regarding ways to bring kindness into your business, organization, and everyday life visit ParkCityOfKindness.org.
The 2020 Census subgroup will develop and execute a public relations campaign to increase awareness and participation in the Census along the Wasatch Back. The COVID-19 pandemic has created a challenge to public processes, such as local elections, and is compounded by existing fear of the government. Class 26's efforts are intended to supplement existing census awareness and promotion efforts conducted by City, County, and State Census coordinators. Additionally, the class will collaborate with local media, religious organizations, non-profits, and other organizations to spread information across the Wasatch Back, especially more vulnerable communities.
Class 26's Communications Team will help to help establish the Neighborhood Network to facilitate community communication. The network will allow for communication of important news, programs for business owners, front line workers, and vulnerable community members during the various stages of the COVID-19 response and in the future. The Team will collaborate with the City and County as communication needs evolve, and hope to develop a tool that will endure into the future to create and strengthen sustainable neighborhoods.
Leadership Park City Announces Class 26 Roster
Leadership Park City celebrates its 26th year with its 2019/2020 class
PARK CITY, UTAH (September 20, 2019) — Leadership Park City is proud to announce the members of its 26th Class. The selection committee chose 36 class members from an impressive group of over 90 applicants.
Applicants hailed from Summit, Wasatch, and Salt Lake Counties, though all have some connection to Park City by way of their careers or personal lives. Program founder and director Myles Rademan explained, "We are thrilled to welcome the 26th year of Leadership Park City with anther excellent group of Park City area community members. The selection process was especially challenging as there were many qualified applicants. Applicants not selected for this year's class are encouraged to reapply in the future."
The Leadership program also includes two events open to the public: a one-day "Leadership 101" class on Friday, February 7, and a free community lecture in March. Those unable to take part in the formal program are encouraged to attend either or both of the public events. Tickets for Leadership 101 will go on sale in early 2020. For more information about the Leadership program, visit: parkcity.org/departments/leadership-park-city.
The selection committee would like to extend their welcome to incoming members of Class 26, and congratulate the graduates of Class 25:
GRADUATING MEMBERS OF LEADERSHIP PARK CITY CLASS 25
Alisa Schofield
Alisha Niswander
Andrea Spaulding
Anna Frachou
Beano Solomon
Camilla Kragius
Christine Katzenberger
Claire Wiley
Clay Coleman
Daniel Potter
David Kottler
Deanna Rhodes
Elizabeth Dosher
Emily Quinn Loughlin
Gregg Simonds
Hannah Tyler
Janna Young
Jennifer Gardner
Kahrin Sharp
Kendra Wyckoff
Malena Stevens
Marion Boland
Meaghan Miller
Michael Thurgood
Michael Lewis
Michelle Downard
Pat Matheson
Roberto Lopez
Stephanie Engelbrecht-Richins
William Pidwell
MEMBERS OF LEADERSHIP PARK CITY CLASS 26
Aimee Armer
Alisa Evans
Allison Bowman
Andrea Terwillegar
Ashley Lewis
Carol Calder Haselton
Celia Peterson
Dave Paskoski
Diane Bernhardt
Doug Dickens
Emily Cook
Eric Hoffman
Evelyn Cervantes
Flor Dalila Ambario (Flower)
Gabriel Bielma
Jan McCosh
Janice Fine
John D. Fry
Kathleen Nichols
Kelly Simons
Kevin Stickelman
Khaki Howe
Leslie Chavez
Meredith Riley
Mike Ruzek
Nicole Kennedy
Pete Earle
Phil Bondurant
Ryann Satz
Shay Blackley
Steve Paul Pushka
Steven G Yapp
Sue Ann Kern
Teague Cowley
Tyler Orgill
Willa Fleming-Harkness
About Park City Municipal Corporation
Park City Municipal Corporation is the government seat for Park City, Utah. A former silver mining town, Park City is now home to two world-class ski resorts and was the mountain host for the 2002 Salt Lake City Olympic Winter Games. The town of 7,500 also hosts many special events, including the Sundance Film Festival and the Kimball Arts Festival. For more information, please visit www.parkcity.org.