Notice: Defensible Space/Wildfire Mitigation Clearing Occurring in Old Town
Notice: Defensible Space/Wildfire Mitigation Clearing Occurring in Old Town
What is Defensible Space and why is it important?
Defensible space is the buffer created between a structure/home and the wildland area that surround it. This space is needed to slow or stop the spread of wildfire. It is created by thinning grasses, shrubs and trees which may serve as wildfire fuels. Defensible space is needed to slow or stop the spread of wildfire and it helps protect your home from catching fire—either from embers, direct flame contact or radiant heat. Proper defensible space also provides firefighters a safe area to work in, to defend your home.
PCMC performs this mitigation, on city-owned open spaces, where homes are within the 100' buffer.
Private homeowners are responsible for work on their property.
When will clearing take place?
Clearing is scheduled to take place in your neighborhood from approximately September 27- November 30, 2021. Work Dates are subject to change.
Where will it be taking place?
Work will take place in the City owned open space in the areas indicated on map found on reverse.
Who will be doing the work?
The city uses qualified arborists and wildfire professionals. This year you may see employees from the company:
Where do I find information on Defensible Space Clearing on my property?
There are multiple resources for getting started with creating defensible space around your home, check out the following websites:
Project Contact
Logan Jones, Trails & Open Space Coordinator | logan.jones@parkcity.org | 435-615-5176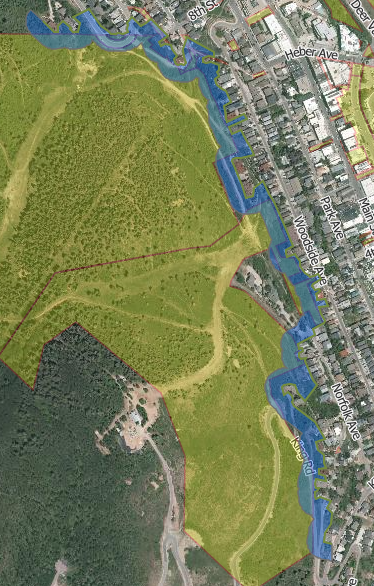 Return to full list >>