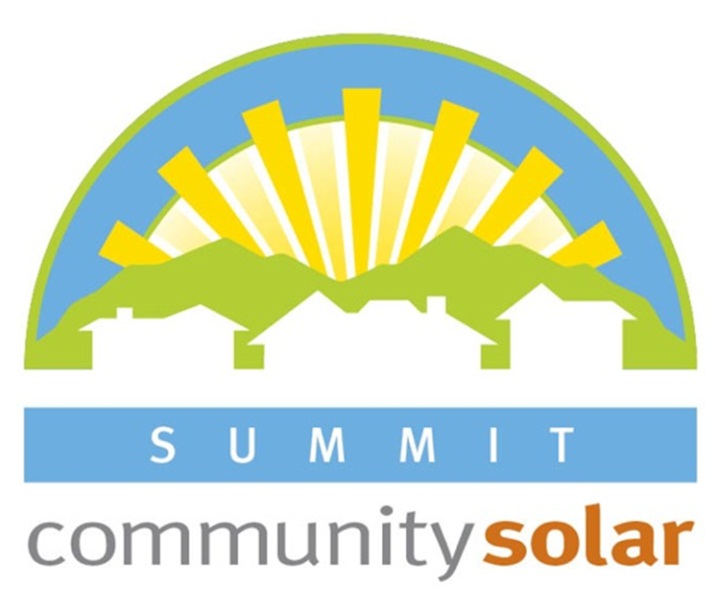 Are you interested in making it easier to go solar in the Park City area? Park City has partnered with Summit County and Utah Clean Energy to launch a solar bulk purchasing program for residents titled Summit Community Solar. The program focuses strictly on residential solar installations and will be running through 2013. Visit the Summit Community Solar webpage to learn more and sign-up for program updates.
Keep reading below to learn more about past solar and clean energy projects completed by Park City Municipal.
In line with our commitment to renewable energy and reducing carbon emissions, Park City Municipal has installed over 120 kilowatts (kW) of solar energy (equal to 508 total solar panels!). Generating the same amount of power annually would require about 156,000 pounds of coal each year. Our three most recent, and largest, solar installations all utilized 100% American-made solar panels. Details on all six of our completed solar projects are included below.
Scroll to the bottom of this webpage to see information for residents about renewable energy and details on an energy-related feasibility study completed with the help of Utah State University and the Energy Dynamics Lab in Logan, UT.
NEW FEE WAIVER: Park City Municipal will waive Building permit and site inspection fees (up to $1,000) for new renewable energy projects completed through December 31, 2013! The incentive applies to both residential and commercial projects - click here for more details.
Park City Municipal - Renewable Energy Projects
Project Name: Transit Solar
Location: 1053 Iron Horse Drive Completion Date: November 2012
Project Size: 54.6 kW (largest system in Park City!) Funding: FTA, UDOT and Transit Sales Tax
214 Solar PV Panels - click image for details Click here to see real-time energy production!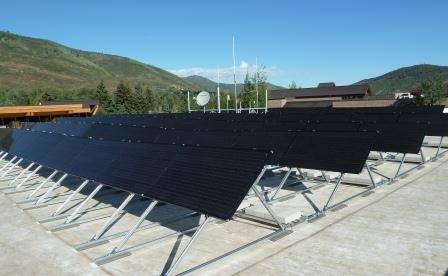 Project Name: Police Solar
Location: 2060 Park Ave
Project Size: 22.0 kW - Case Study!
88 Solar PV Panels - click image for details!
Completion Date: August 2012 -
Funding: RMP Blue Sky Grant and EECBG Funds
*Monitor Police's Solar Energy Production!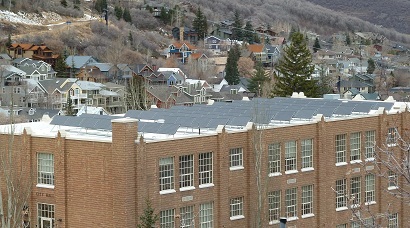 Project Name: City Hall
Location: 445 Marsac Ave
Project Size: 18.8 kW
80 Solar PV Panels - click image for details!
Completion Date: December 2010
Funding: EECBG Funds
*Monitor City Hall's Solar Energy Production!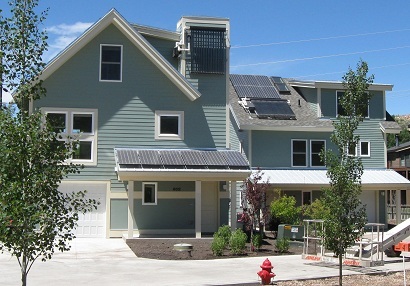 Project Name: Snow Creek Affordable Housing
Location: Snow Creek Drive
Project Size: 13 Houses
13 Geothermal Heat Pump Systems
14.4 Total kW PV; 78 Solar PV Panels
82,056 BTU Total Solar Thermal Capacity
Completion Date: June 2010
Funding: Affordable Housing In Lieu Fees
Project Name: Creekside Park
Location: 2392 Holiday Ranch Loop Road
Project Size: 5.5 kW
24 Solar PV Panels
Completion Date: September 2010
Funding: RMP Blue Sky Grant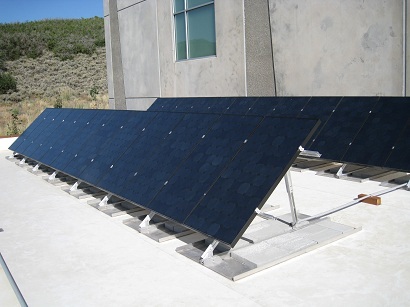 Project Name: Ice Arena
Location: 600 Gillmor Way
Project Size: 5.4 kW
24 Solar PV Panels
Completion Date: June 2009
Funding: RMP Blue Sky Grant
Renewable Energy Feasibility Study

The Energy Dynamics Lab (EDL) and the Jon M. Huntsman School of Business (HSB) of Utah State University partnered to a feasibility study for Park City in 2010 which looks at several areas of interest in renewable and sustainable energy projects. This provides an overarching analysis of several projects to be considered by the Park City Mayor, the City Council, and the City resident's to aid them in their efforts to reduce the community carbon footprint and secure various forms of sustainable and renewable energy.

Five primary research projects and one special project were considered for the purposes of this study:
* Microhydro
* Microwind
* Solar
* Biomass and Biodigestion
* Natural Gas Bus Info
A special project discussion is included on the potential of using a high-end retail establishment in Park City to demonstrate and test the most advanced intuitive lighting system in the world.

A complete PDF version of "Renewable Energy: A Path Forward for Park City" is available here. The file is roughly 5 MB and may take a moment to load.
Additional Information for Residents
Park City is #17 in the country in regards to the percentage of electricity purchased from Green Power Purchase programs and was one of two communities in the U.S. named a Green Power Community of the Year in 2010 by EPA. The City, along with Rocky Mountain Power, has set goals for an even higher local participation rate in the Blue Sky renewable energy program. Click here to sign up for Blue Sky and help Park City meet its renewable energy goals!

Interested in renewable energy for your home or business? ParkCityGreen.org has all the information you need to get started, including details on rebates. Additionally, City Council in Park City has approved an incentive program for 2011-2013 that will waive the City's Building and Site Inspection fees for solar and wind energy systems up to a certain size. See the attached Press Release for more details!