Park City Recreation administers the sports fields in Park City proper, including those at Park City Sports Complex, City Park, and the School District Fields. Fields can be reserved for a game or event by reviewing the Field Use Policy and completing a Field Use Application. Questions about field reservations can be directed to Karen Yocum, 435-615-5413 or karen@parkcity.org.

There are numerous fields located in Park City which can be reserved for use by families, teams, clubs etc. Availability is dependent on time of year, local recreation programs and scheduled field maintenance.

*City Park – contains a full size softball field which can accommodate 60', 65' or 70' bases. The pitching rubber is located at 50' however a portable mound could be placed. We have a temporary fence surrounding the outfield at about 298' in center field. This field also contains an overlapping field sports area which could accommodate soccer, rugby or lacrosse.

*PCHS – the high school fields include a full size baseball field, a softball field (60', 65', 70' bases), and a small baseball field (60' bases) with grass infield. There is also a turf football, soccer or lacrosse field with a full outdoor track fully enclosed within fencing.

*TMJHS – There are three baseball/softball fields located here. The pony field accommodates 70', 80' or 90' bases with the appropriate portable mound distances. The other two are small skinned infields with 60' bases. There is space between the fields to accommodate a soccer or lacrosse field.

*N40/Wetlands –This large area located north of TMJHS is open grass surrounded by both paved and wood chip paths. The creek runs along the east side. The area can accommodate two full size soccer or lacrosse fields.

*Park City Sports Complex – Our complex is made up of four different fields. Two are multipurpose accommodating both softball/baseball and soccer/lacrosse. These two also have lights for night play. A third is our 'stadium' field for games only; soccer or lacrosse can be played there. The fourth is a softball/baseball field with 60' or 65' bases.

Fitness in the Park – Our new outdoor fitness area will open in the Spring 2014. Located at the Park City Sports Complex on the Northwestern corner of the grounds, the area will include strength, balance, core and cardio equipment for enjoyment by anyone visiting the park. The equipment targets adults and pieces are self-explanatory however, use placards will be installed. Fitness classes will be held at the park during the summer. Watch for the schedule listed under group fitness classes.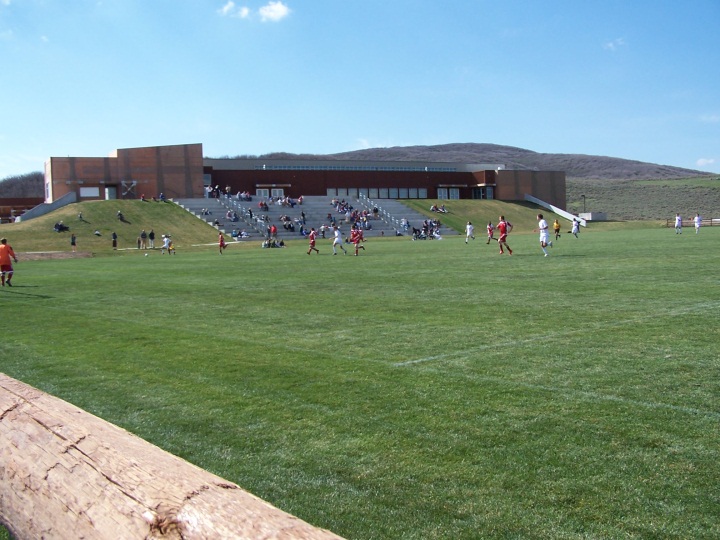 Stadium Field at Park City Sports Complex